Future Student
Shape your future here.

At the School of Art and Design you can make and achieve anything. We are a community committed to each individual's success, because we thrive on the energy and excitement that students bring to the classroom and look for new ways to stretch and grow as creative scholars. Here you will have the platform for launching the creative future you design, supported by committed faculty, dedicated staff, and outstanding resources.
As part of our community you will gain knowledge and technical skills necessary to succeed art and design, learn to think critically, solve problems, and understand your ability to influence the changing world using a diverse and every-expanding creative tool box. You will work side-by-side with world class faculty, engaged peers, and renown scholars who are committed to the territory of art and design on the pathway that you chart. You will have unique experiences through relationships with the local and regional community across a variety of events, shows, lectures, and projects that will prepare you to both shape and succeed in the future you envision. Come join us!
---
The best way to determine if the School of Art and Design is right for you is to come visit our community. From our extensive facilities in Jenkins Fine Arts Center, to our engaged faculty, and supportive staff, we will welcome you and show you all that our School has to offer! Schedule a visit with us to get a tour focused on art and design.
---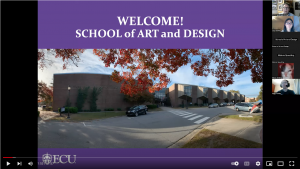 ---
Undergraduate Incoming Students Orientation
The BFA in Art is an umbrella degree that allows you to explore the School's broad variety of disciplines, while focusing on an area of concentration:
animation/interactive design
ceramics
film and video production
graphic design
illustration
metal design
painting and drawing
photography
printmaking
sculpture
textile design
The BFA in Art Education prepares future K-12 arts educators by combining instruction in art and art history with professional educator training. In the BFA in Art Education program you get to explore the School's many disciplines and develop your skills as a arts educator through hands-on learning experiences.
The BA in Multidisciplinary Studies with a concentration in Art Histories spans two Colleges at ECU. The program offers courses in a wide range of areas that are representative of a globalizing world view. Taught by a faculty of experienced teachers and published scholars, courses lay a foundation in cultural awareness in art history. You will learn about historical, geographical, aesthetic, social, political, economic, religious, and other cultural factors that shape the lives of those involved in the making of art and its reception. In addition, courses will introduce you to research methodologies of various disciplines that are concerned with visual culture. The degree also contains a museum studies component for those interested in pursing graduate work in this field.
---
Graduate Programs
The MFA in Art will prepare you for your creative making career objectives through intensive critical thinking, creative problem solving, and intensive making. The degree offers concentrations in a variety of areas, while allowing students to explore the many opportunities of the School.
Ceramics
Graphic design
Metal design
Painting and drawing
Photography
Printmaking
Sculpture
Textile design
If you wish to pursue your MFA, but can't focus on studies full-time, our low residency MFA with a concentration in ceramics may be right for you. Through a combination of on-line, distance, and face-to-face instruction you will push your abilities as a maker aesthetically, technically, and conceptually.
The MAEd with a concentration in Art Education is the professional degree for art educators. At ECU, the MAEd can be pursued entirely online at your own pace. The MAEd is for licensed K-12 educators who wish to refine their professional skills and take their knowledge to the next level.
For incoming undergraduate students, we offer a living learning community (LLC) housed directly next to Jenkins Fine Arts Center in Garrett residence hall. As a member of the community you will room with another art and design major, attend special programming focused on art and design, and instantly be part of a community of creative, passionate students and faculty. The Fall 2023 cohort will have an community arts focus! Come join the fun and be part of our LLC!