MFA in Art
With more than 475 undergraduate and 20 graduate students, and 45+ faculty members, the School of Art and Design at East Carolina University is the most comprehensive art school in North Carolina and one of the largest in the Southeast. Our students come from North Carolina, the east to the west coast, and countries outside of the United States. The ECU School of Art and Design has been an accredited, institutional member of the National Association of Schools of Art and Design since 1962. Over 50 continuous years of specialized accreditation has resulted in a rigorous curriculum with flexibility and practical applications.
The MFA at ECU is a 60-hour degree program and completed over three years, and we offer concentrations in Ceramics, Graphic Design, Metal Design, Painting, Photography, Printmaking, Sculpture, and Textile Design. Our program guarantees multiple opportunities for teaching assistantships and mentoring to approved candidates. This 3-year program provides access to numerous visiting artists and scholars, workshops, symposiums, travel opportunities, and financial support.
---
Meet Our MFA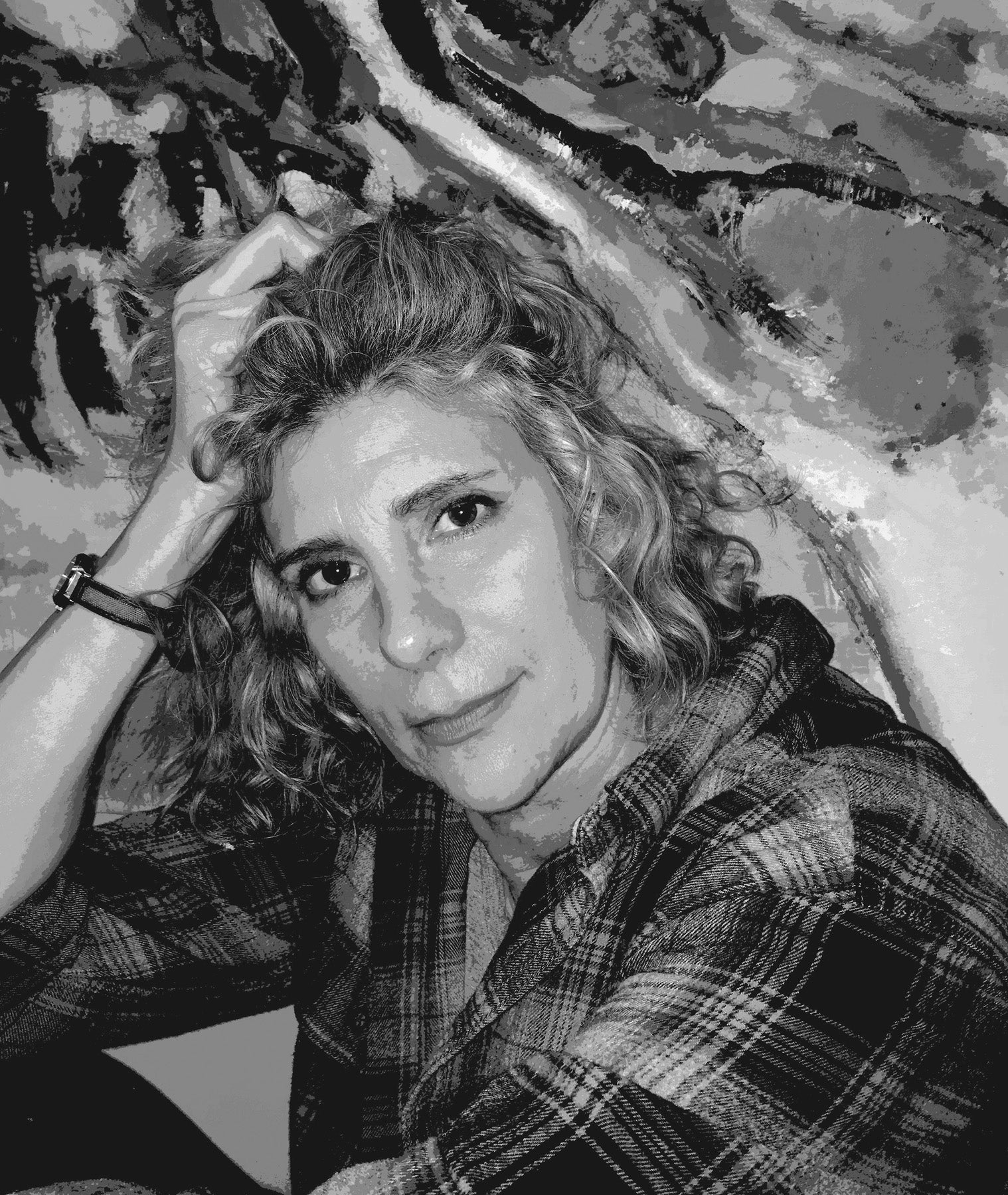 Loraine Scalamoni is a contemporary figurative artist and MFA Candidate in painting and drawing in her second year at ECU. She brings all the trials, prejudices, and instincts that come with her history as a woman into her paintings. Her recent work focuses on themes of pain and power in love relationships, using symbolism to further those ideas. She creates work that encompasses the power her models embody. Loraine typically uses oil paint and acrylic transfers as her medium, and a palette of saturated color, which brings positive energy to the work.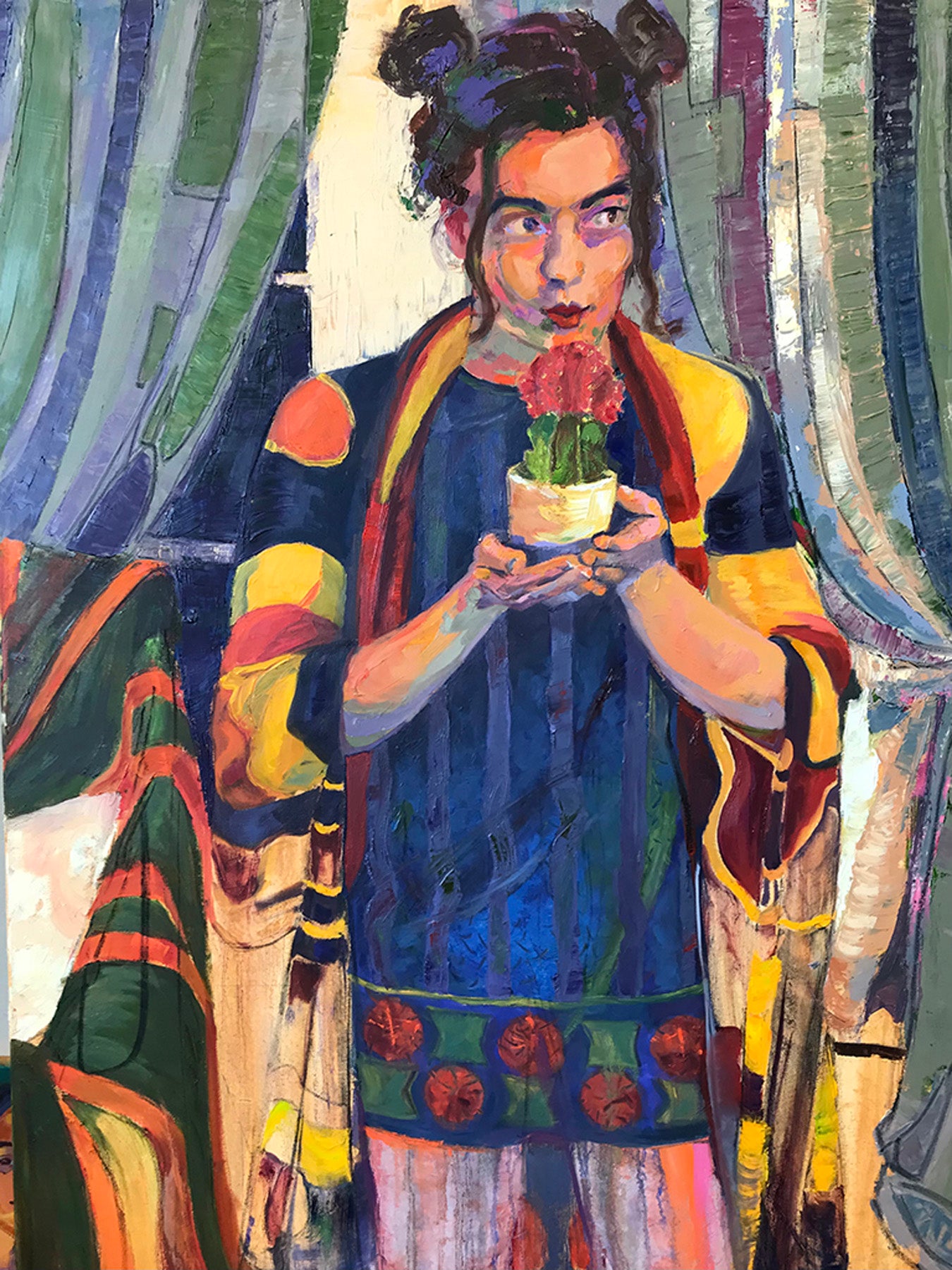 Just a Little Prick, 2022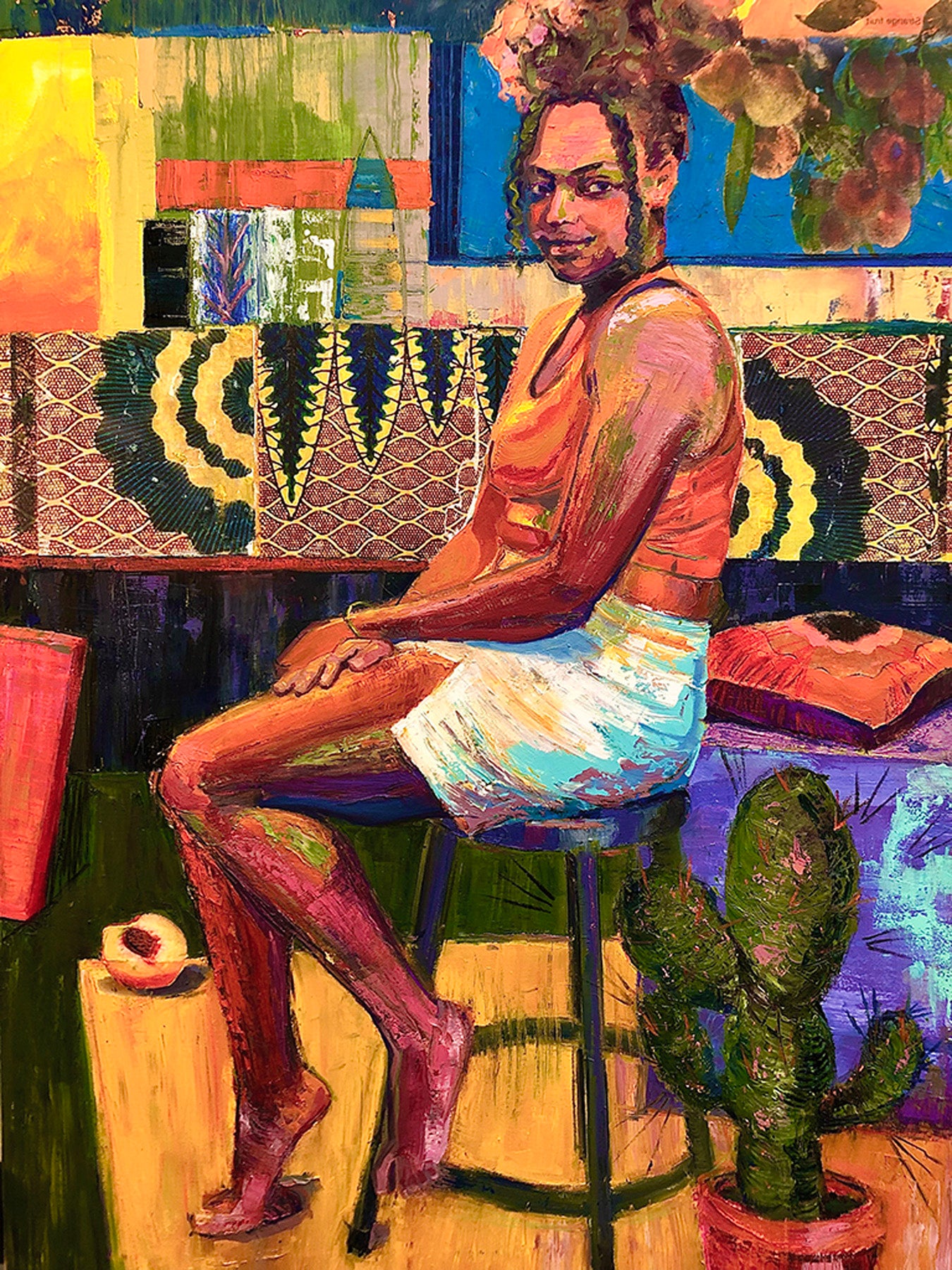 Power Trip, 2022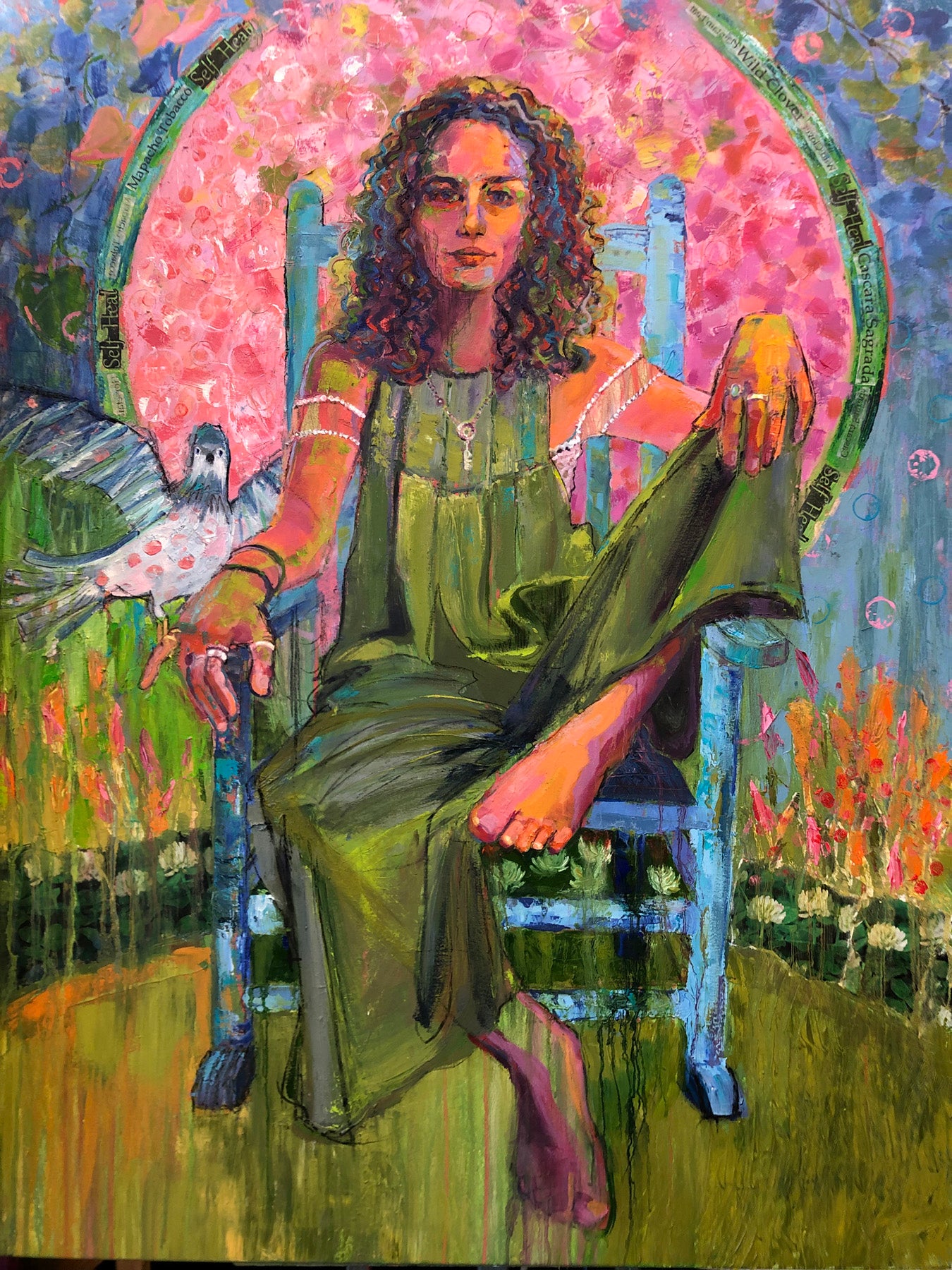 Etoile, 2022
---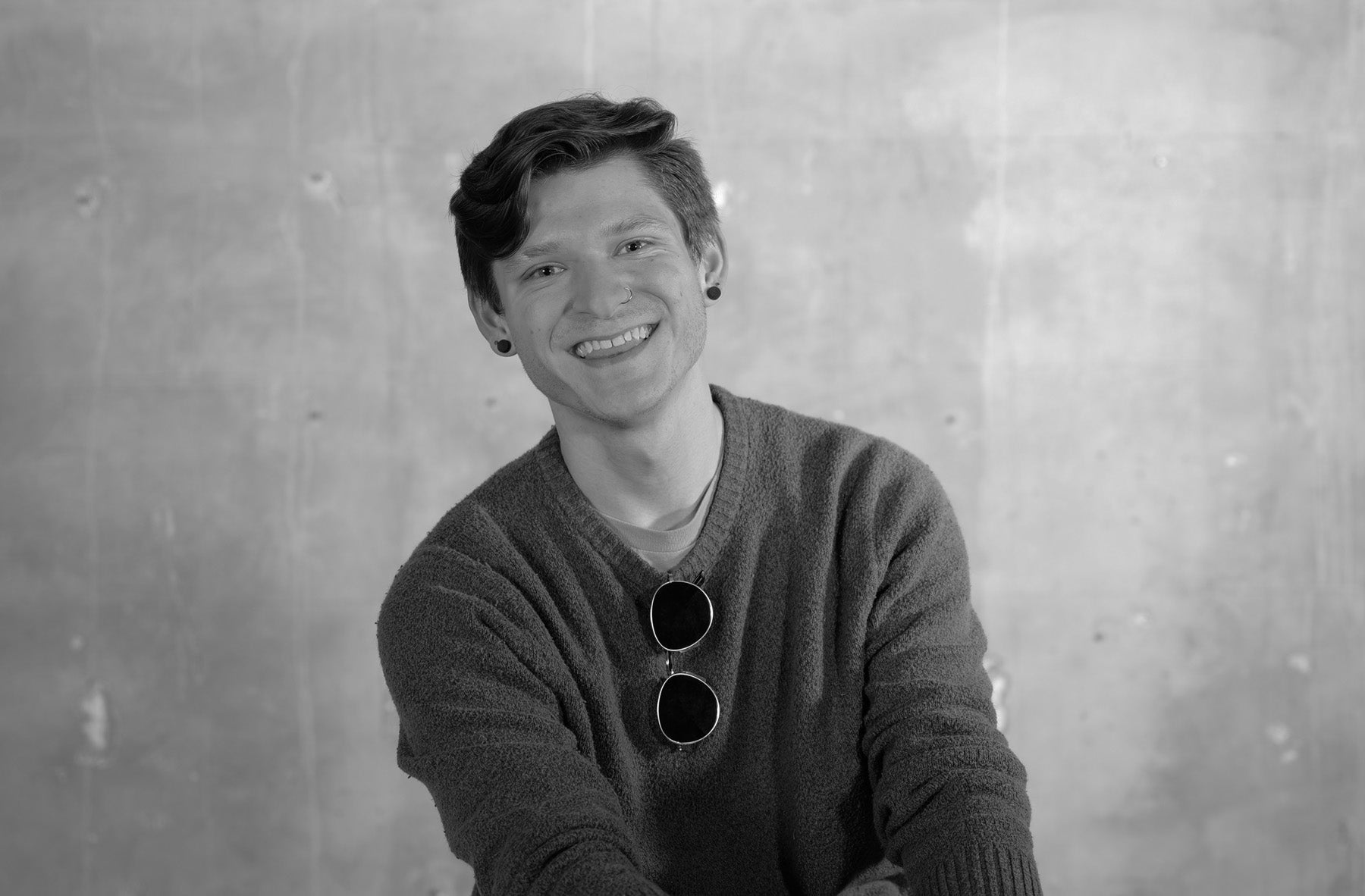 Born in Rome, GA Justin Tyler King obtained an undergraduate in Graphic Design at Mercer University and has designed for the likes of health clinics, non-profit organizations, local apparel stores, and more. King currently is a graduate student at ECU and is striving to break from typical design conventions found in corporate branding. King believes that brands do not need to be limited by a sterile corporate dogma of design, but rather can find freedom in expressive type that can better convey their message.
These designs by Justin Tyler King capture the essence of the Graphic Design movement called New Wave, which was most prominent in the 1970's into the late 90's. The designers of this movement sought to depart from the restrictive conventional grids that were fixated on by designers of the Swiss International Movement. New Wave designers worked with grids only to break them with a variety of type. These designers believed that type could be far more expressive than a phrase typed on a page. Type can exist in many different shapes, sizes, and fonts within the same design to convey a concept to its maximum potential.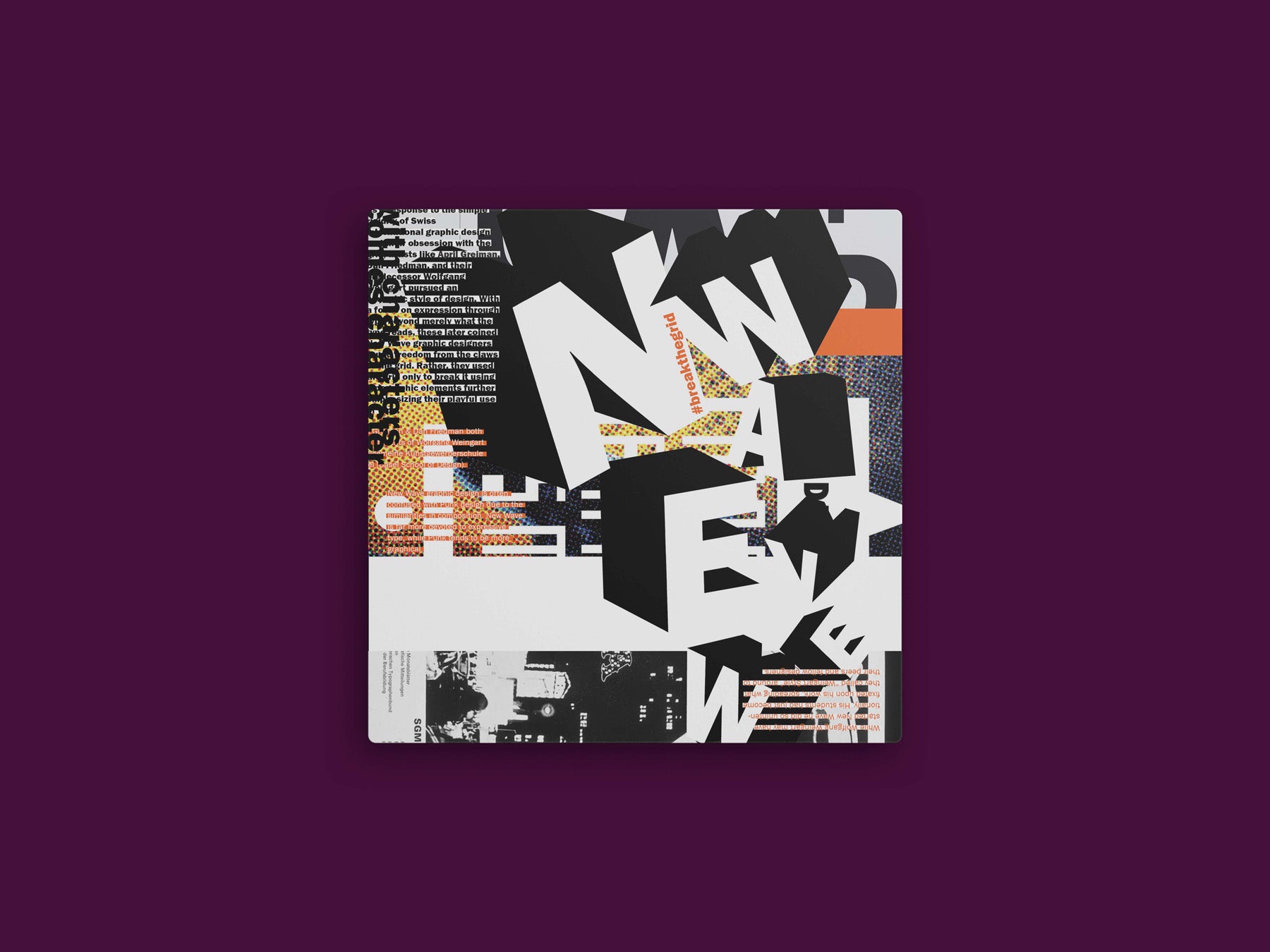 #breakthegrid, 2022
digital
8x8in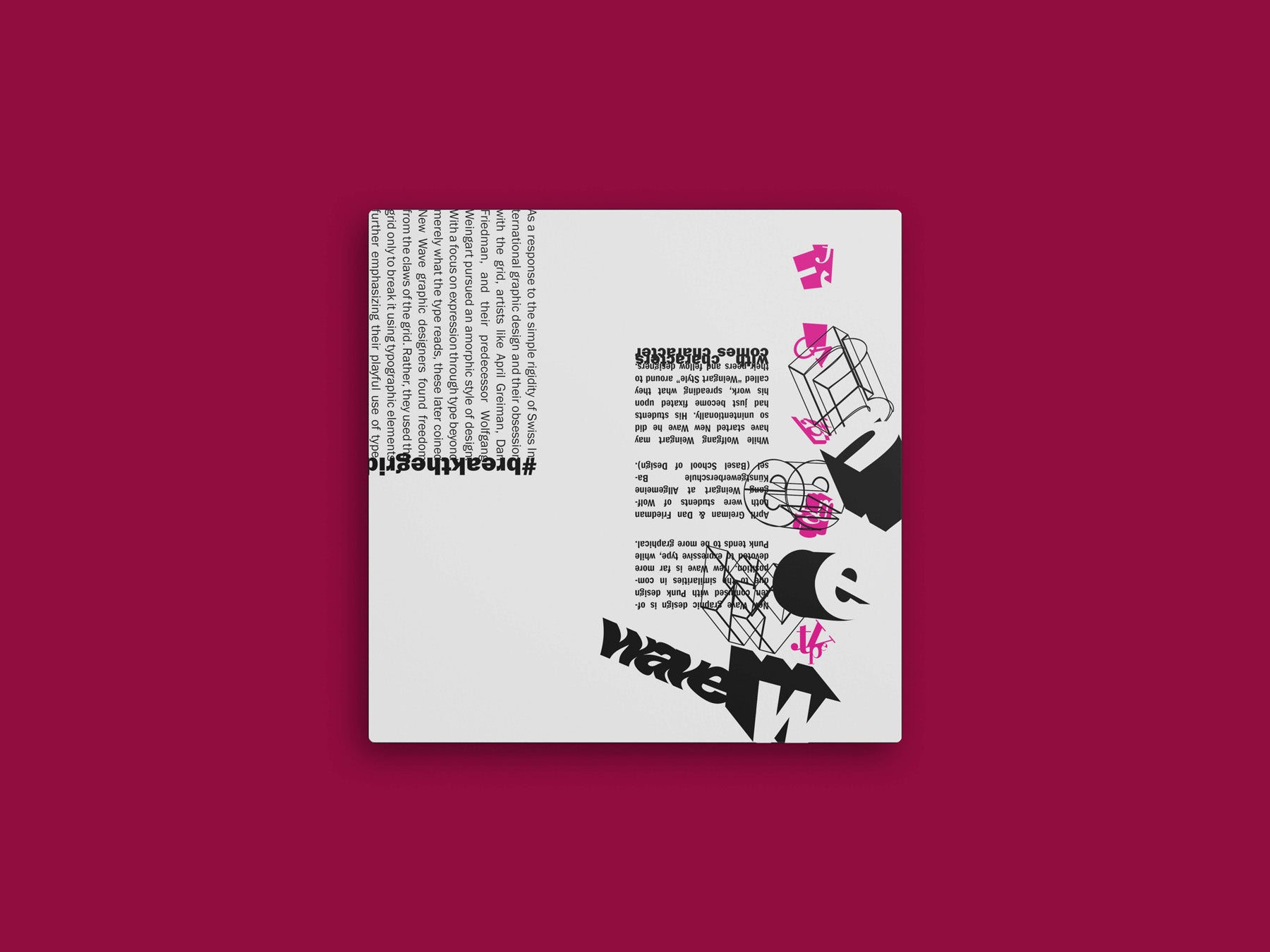 Characters with character, 2022
digital
8x8in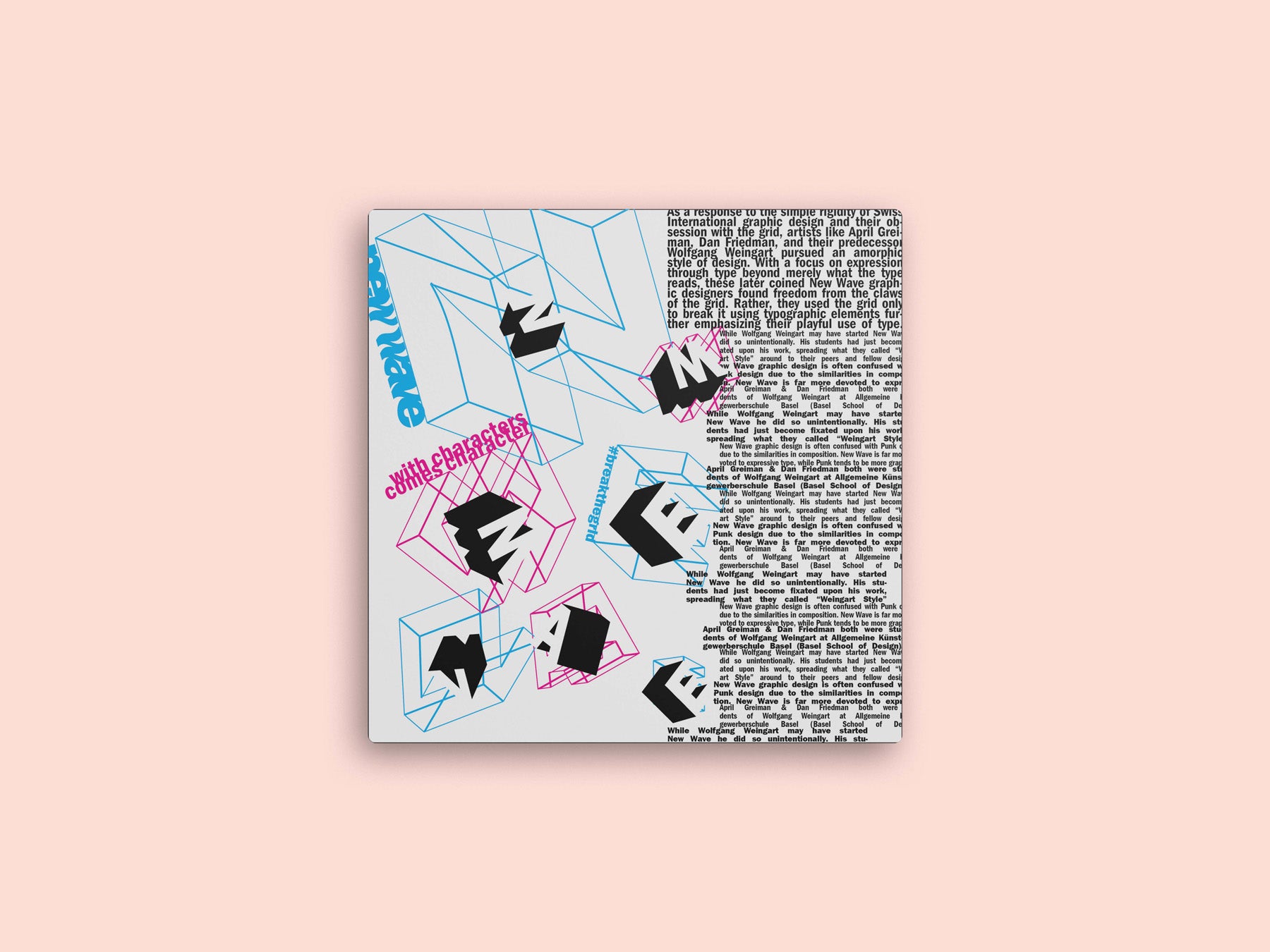 New Alignment, 2022
digital
8x8in
---
Graduate Publication
ECU School of Art and Design is proud to be the home for our MFA students, representing diverse disciplines in creative research. They are innovative thinkers, distinguished makers, and global participants who understand the responsibility of interdisciplinary and civic engagement in defining our visual world. This publication captures their voice.
view grad publication & Volume Three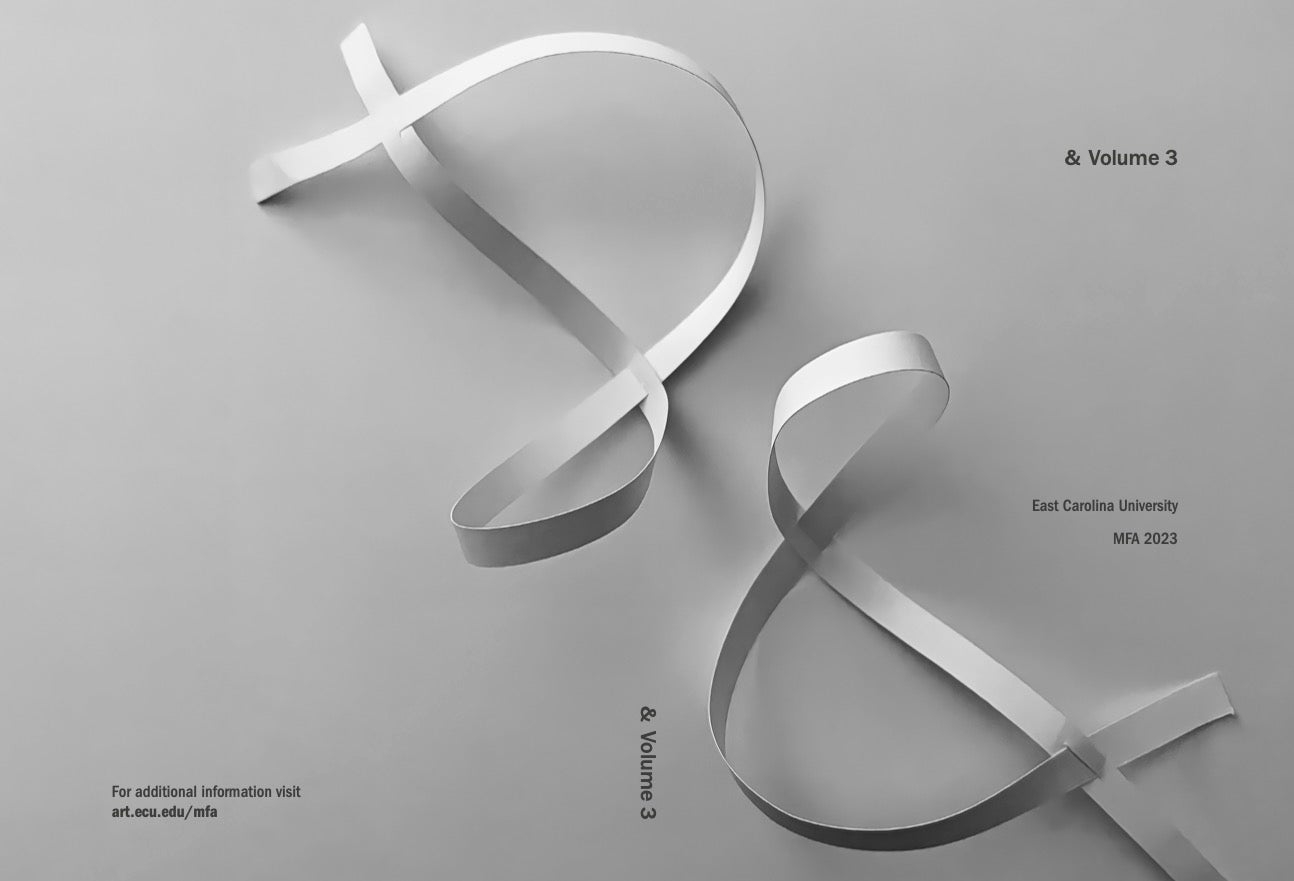 The artwork in this book belongs to the ECU MFA students (2022–2023).
The typeface used in this book is Franklin Gothic URW.
Faculty mentor: Dan Elliott
Portrait photography direction: Angela Franks Wells
Studio photography direction: Brian Culbertson
If you wish to contribute to the production cost of &, donations can now be given online here: https://give.ecu.edu/SoAD (under additional options, please select Gift Instructions and note MFA Grad Publication.)
---
Apply to the MFA Program
To apply to our graduate program, you must have received an undergraduate degree in art from an accredited institution. If you do not have a BFA in Art, but your portfolio demonstrates an outstanding competency in the intended discipline, the School of Art and Design Graduate Committee will consider your application, provided that you have completed an undergraduate degree from an accredited institution.
Admission to the East Carolina University School of Art and Design MFA degree requires acceptance by the Graduate School for study at ECU and by the SoAD MFA in the intended discipline.
Application materials include:
For ECU Application Portal (TargetX)
Online application form
A statement of purpose (reason for pursuing graduate studies at ECU)
Application fee
3 letters of recommendation
Transcripts
Additional requirement:

c

reative portfolio,

list of work, resume, and maker/designer statement must be uploaded using the applicant's Google Drive (instructions)

A digital portfolio containing 20 examples of work as individual files using the naming convention: LastFirstName-number. Accepted file types are [1] still images in

jpg/pdf

, [2] time-based work in

mp3/mp4

, and [3] text in

pdf

only. Do not submit pptx or docx.
A list of works with title, medium, size, date, and other relevant information (pdf)

Resume in reverse chronological order (pdf)

A statement of the applicant's philosophy as a maker/designer (pdf)
Completed applications are due February 1 to be considered for assistantship and scholarship funding.
For more information, please contact the Graduate Programs Coordinator, Seo Eo eos@ecu.edu 252 328 6281
---
FAQ
We put together a list of answers to the frequently asked questions. Please check it out!
---
Follow us on social media!
Check out fun happenings in our Graduate Program.
Give us a follow and we'll follow back!