Incoming Students Orientation
Watch this video-Get to Know Your Major!

Your Advisors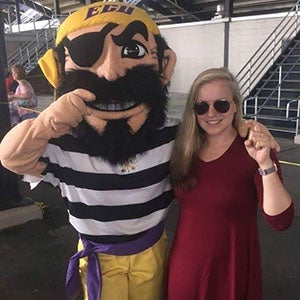 Kaitlyn Underwood
Academic Advisor, School of Art and Design
Academic Advising and Support Center
East Carolina University
2500 Old Cafeteria Bldg.
Greenville, NC 27858
252-328-6001
Jessica Rogers
Academic Advisor, School of Art and Design
Academic Advising and Support Center
East Carolina University
2500 Old Cafeteria Bldg.
Greenville, NC 27858
252-328-6001
Frequently Asked Questions
How many students are currently enrolled in the program? How many students are accepted each year?
The number of students vary each year. in the past few years we have had approximately 500 undergraduate majors. Typically we accept between 90 and 140 Freshmen and Transfers each Fall.
I need help with or have a question about the application. Who should I contact?
Please contact our advisors Kaitlyn Underwood [underwoodka19@ecu.edu] or Jessica Rogers [rogersjes22@ecu.edu] to inquire about the program.
Can I take a tour of the School of Art and Design or visit a class?
Yes, please contact us here to inquire about tours.
What facilities, equipment, or technology are available to graduate students?
The School of Art and Design is housed in the Leo W. Jenkins Fine Arts Center (Jenkins) is approximately 150,000 square feet and contains classrooms (studio, computer lab, seminar, or lecture), dedicated to graduate and undergraduate studios, faculty offices, the School's Main Office, the Wellington B. Gray Gallery, and Burroughs Wellcome Senior Gallery. The facilities include more than eight computer labs, a letterpress shop, a foundry, a wood kiln, and digital shops within the School of Art and Design that offer various formats for digital printing and scanning in a number of labs, as well as laser cutters, CNC routers, 3D printers, and TC2 digital jacquard loom. A newly established, ECU-run hot-glass studio in nearby Farmville (15 miles west of campus) offers courses in glass art Specialized equipment for making across a broad array of disciplines is housed throughout Jenkins. You can see the available facilities and studios specific to each program here [https://art.ecu.edu/facilities-studios/].
What financial assistance is available to undergraduate students?
The School of Art and Design offers a variety of financial assistance to BFA in Art students through various methods. The deadline for School of Art and Design scholarships is January 15th. For more information click here.
To apply for Federal Work-Study program, loans, and some scholarships you must complete the Free Application for Federal Student Aid (FAFSA). The FAFSA is used to determine your eligibility for federal, state, and university aid programs. Even if you think you may not be eligible, we encourage you to apply. The FAFSA is available on October 1. We encourage you to file your FAFSA online as soon as possible to avoid errors and ensure faster processing.
How long is your program?
The BFA at ECU is a 120-hour degree program and is typically completed over four years.
What are the areas of study?
We offer three undergraduate degrees. The BFA in Art Education, the BA in Multidisciplinary Studies with a concentration in Art History, and the BFA in Art with concentrations in animation/interactive design, ceramics, film and video production, graphic design, illustration, metal design, painting, photography, printmaking, sculpture, and textile design.
Can I have a secondary/related area of study or interest?
Yes, however this will likely extend the length of your program.
Do you have a visiting artist program?
Yes, we have a program led by student organizations that bring in visiting artists, designers, and scholars for guest lectures, workshops, portfolio reviews, or discussion forums.
Are there exhibition opportunities for students?
Yes, there is an annual juried undergraduate exhibition opportunity hosted by the Gray Gallery. There are also often opportunities through the Visual Artists Forum, around the School of Art and Design, each departmental guild, and the community of Greenville.