School of Art and Design Alumni Exhibition 2021
Wellington B. Gray Gallery
Back to Alumni Exhibit main page
Pitt County Arts Council at Emerge
Janice Hardison Faulkner Gallery
Linda Werthwein
Graduated 1995
Linda Werthwein's paintings are as rhythmic as dance. Deliberate and spontaneous brush strokes, brilliant hues, calligraphic lines create a redolence of rhythm, color and light. Translation of form frees the subject from the real to the abstract. Life and spirit are released. Painting is a process of marks evolving and vision coming forth, interpreting beauty of the earth, sea, sky and beyond.
Living along the Atlantic, Pacific and Caribbean shores has inspired her work. Intrigued with movement, ocean waves, wild horses, dancers and all subjects flow throughout the composition.Her work is found in regional and international collections. It is part of the permanent collection of CarolinaEast Medical Oncology Center, New Bern,NC, the Honors College and School of Nursing at ECU, and government ministry in Nevis, W. Indies. She holds an MFA in painting and MAED in art education from East Carolina University, is a signature member of the Watercolor Society of NC and Arts Council of Carteret Co., NC and has received numerous awards for her oils as well as watercolors. Encouraging other to "take a leap" with the brush she has taught preschool to the university level, learning disabilities, maximum security inmates, substance abuse rehab women, professional artists and watercolor for American Cruise Lines. She offers private and group classes at her Beaufort studio and international workshops.
Living in Coastal NC where the wild horses run free she returns regularly to the heart of the Caribbean.. For a further look, check out her website: www.lindacwerthwein.com, Facebook and Instagram.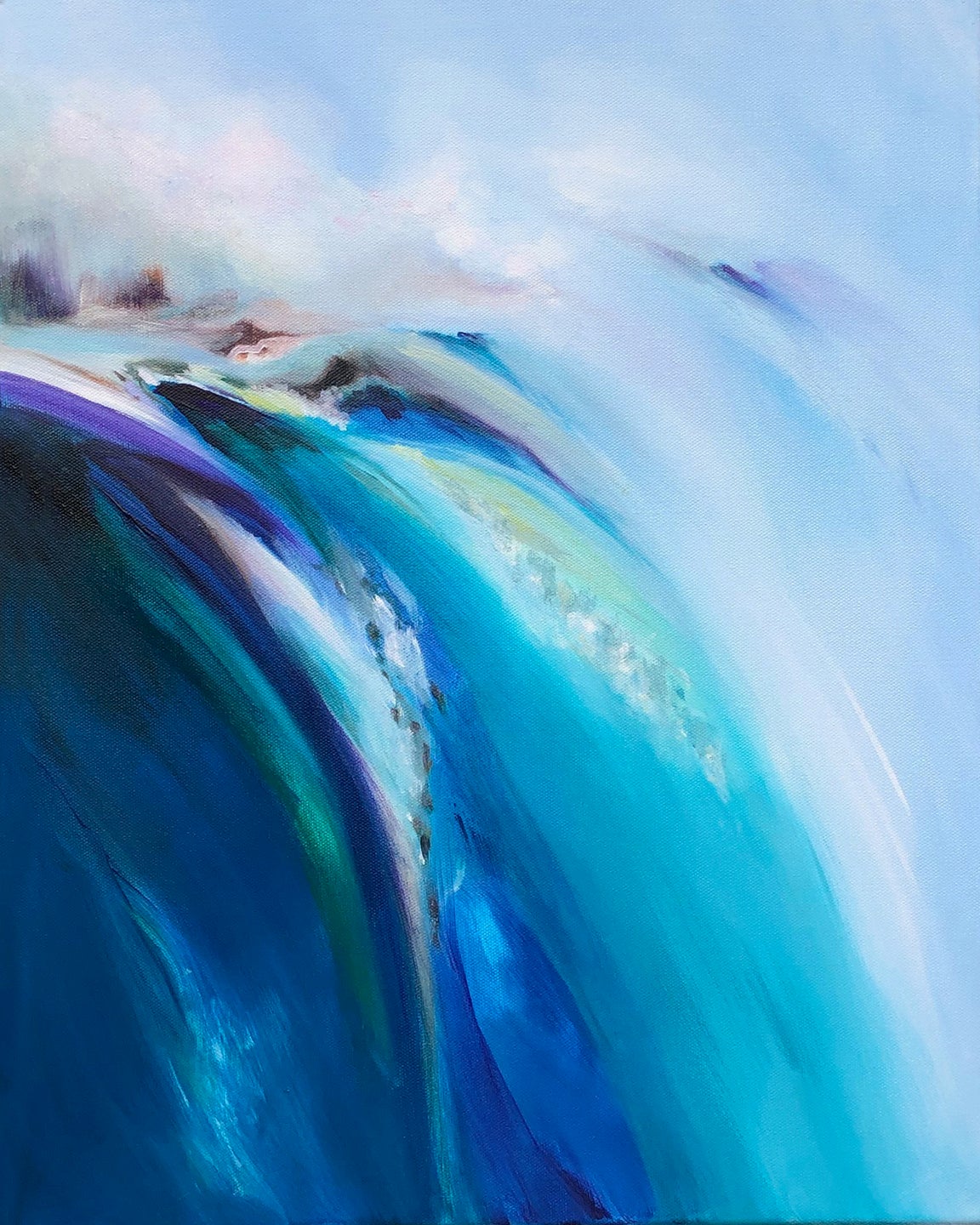 Cascading Mist, oil, 20″ x 16″ x 1″, 2019