Hannah Pritchard
BFA '20 Art Education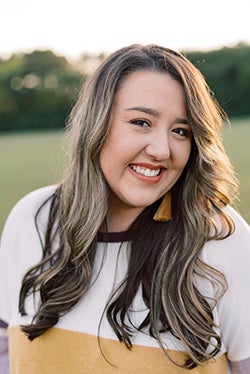 Born and raised in Fayetteville, NC, Hannah has always had a desire for art and all things creative. She knew she always wanted to work with children, she just had no idea at what capacity and what level until her sophomore year at East Carolina University. Hannah discovered that she had a passion for painting in her freshman year of college and started posting her personal artwork on social media. Her paintings quickly became something that she wanted to pursue, which changed her life from there on out. Hannah completely took a chance and changed her major to Art Education where she grew her passion for art on a whole new level, and her passion for sharing her love for art with young students. The lessons that she has learned in this field will forever affect the way she will teach and produce her own personal art. Not only has Hannah learned how to effectively teach and communicate with students from Kindergarten to High School, she has grown her own personal business on the side, sharing her passion for art all over North Carolina. She does live wedding paintings on the weekends, and commission work throughout the week. All of this has been done in ADDITION to schoolwork. East Carolina has taught her patience, determination, time management, and so many art-making skills that she will take with her for the rest of her teaching career and her art career.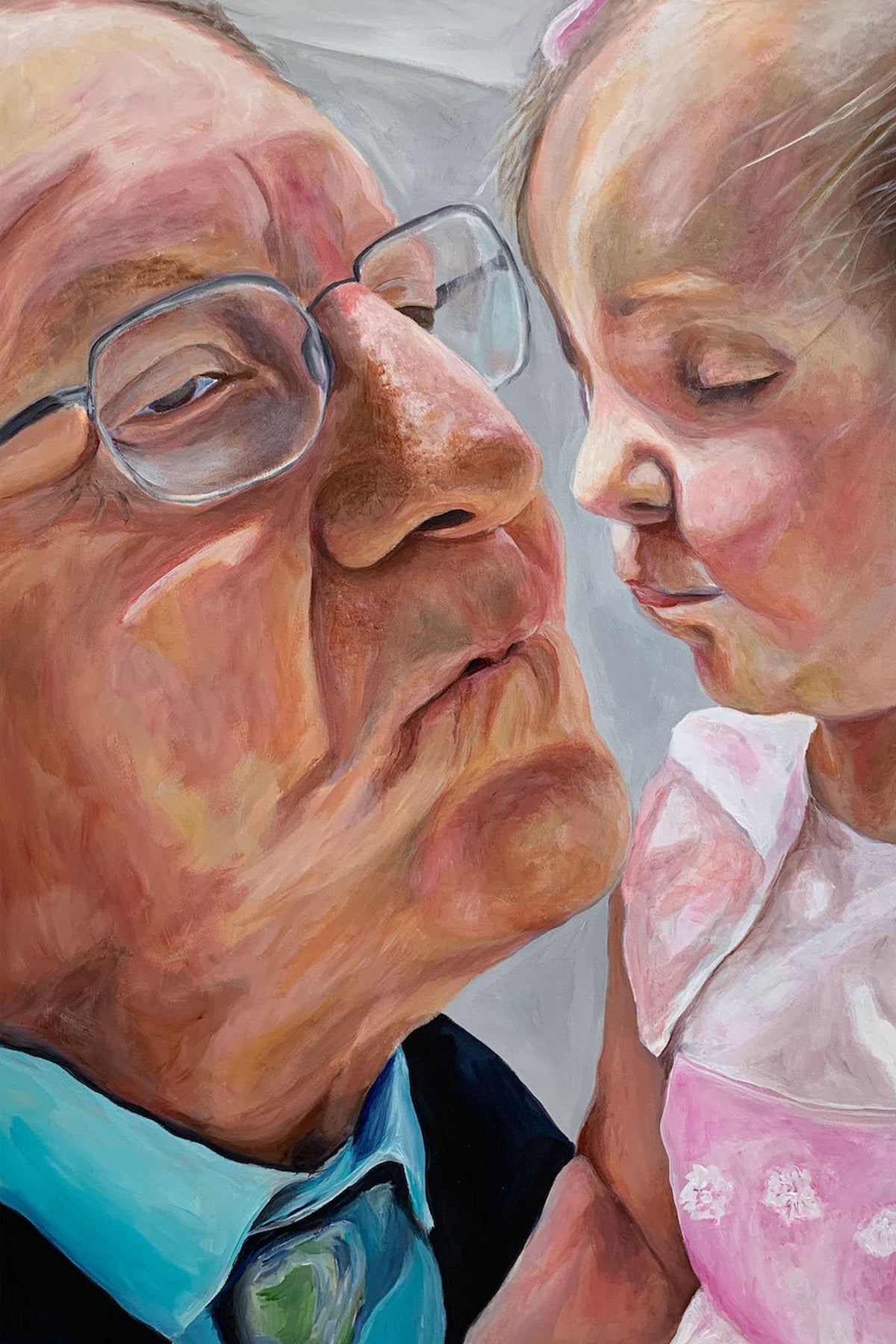 Reminiscence, 2019
digital painting understructure with acrylic paint overlay on stonehenge paper
24 x 36″
In this painting, our prompt was to think about an interaction between two living things, an interaction that the viewer is not completely understanding of what is going on between the two subjects. This piece is special to me because this is my Grandpa and my baby cousin. I enjoyed this image because there are several different ways the viewer could interpret this. To me, I know that my Grandpa was going to kiss my cousin's cheek, but to one looking in from the outside with no context, that may not be the interpretation. Our instruction was to start our piece with a digital understructure painting done in a monochromatic color scheme. I chose a violet tone, to start with a cool understructure, so blips of that color could shine through. Once we were finished with the understructure, we printed it out and painted it on top of it with our choice of medium. I chose acrylic paint. I really loved bringing this piece to life and showing the variation between all the different colors within the skin. I have this piece framed and in my home. It reminds me every day how far I have come with my skill, and how many amazing things I have learned from attending East Carolina University and pursuing an art degree.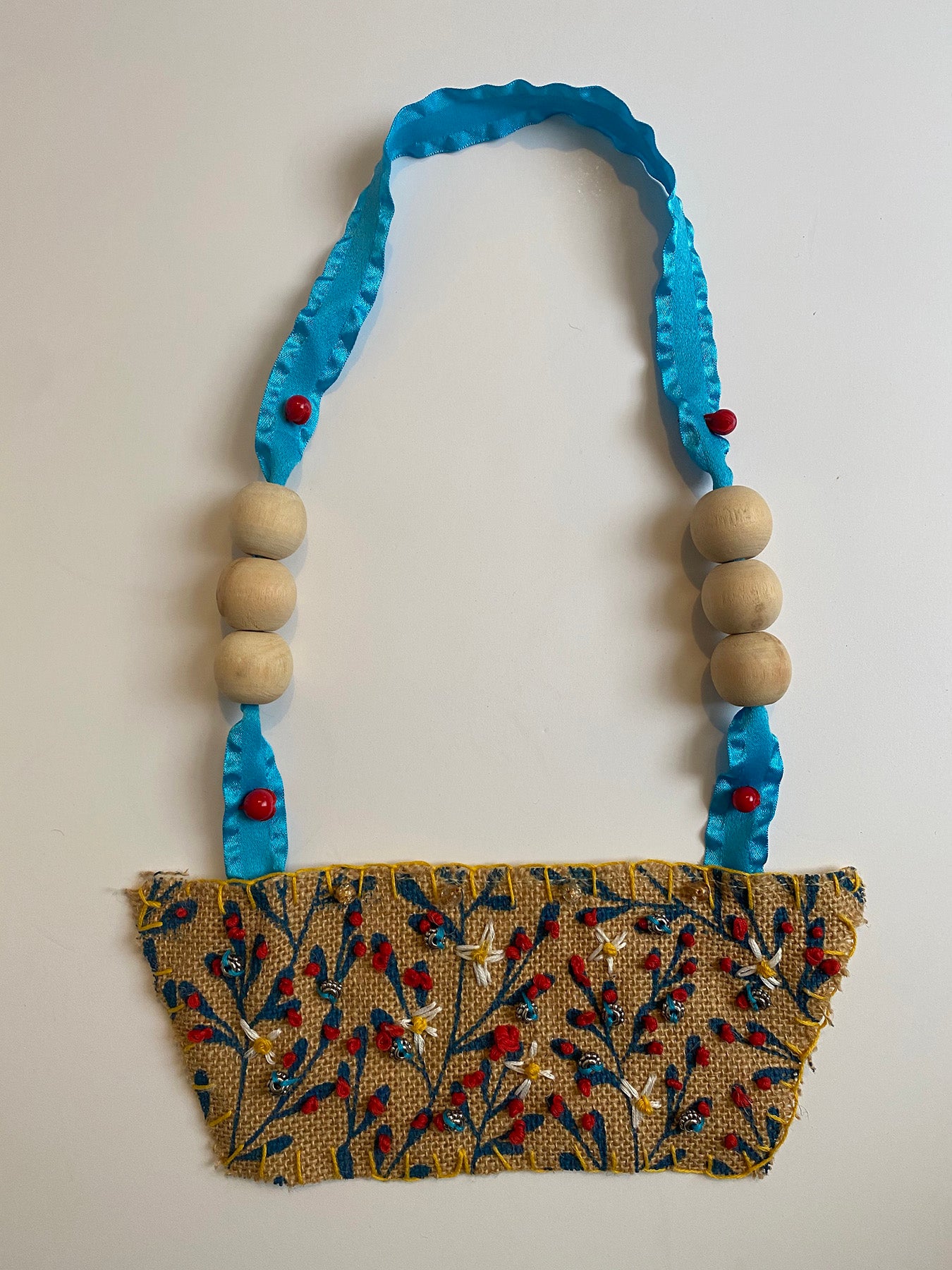 Picnic Chic, 2020
recycled material to make a necklace
burlap fabric, wooden beads, decorative beads, and various colors of embroidery thread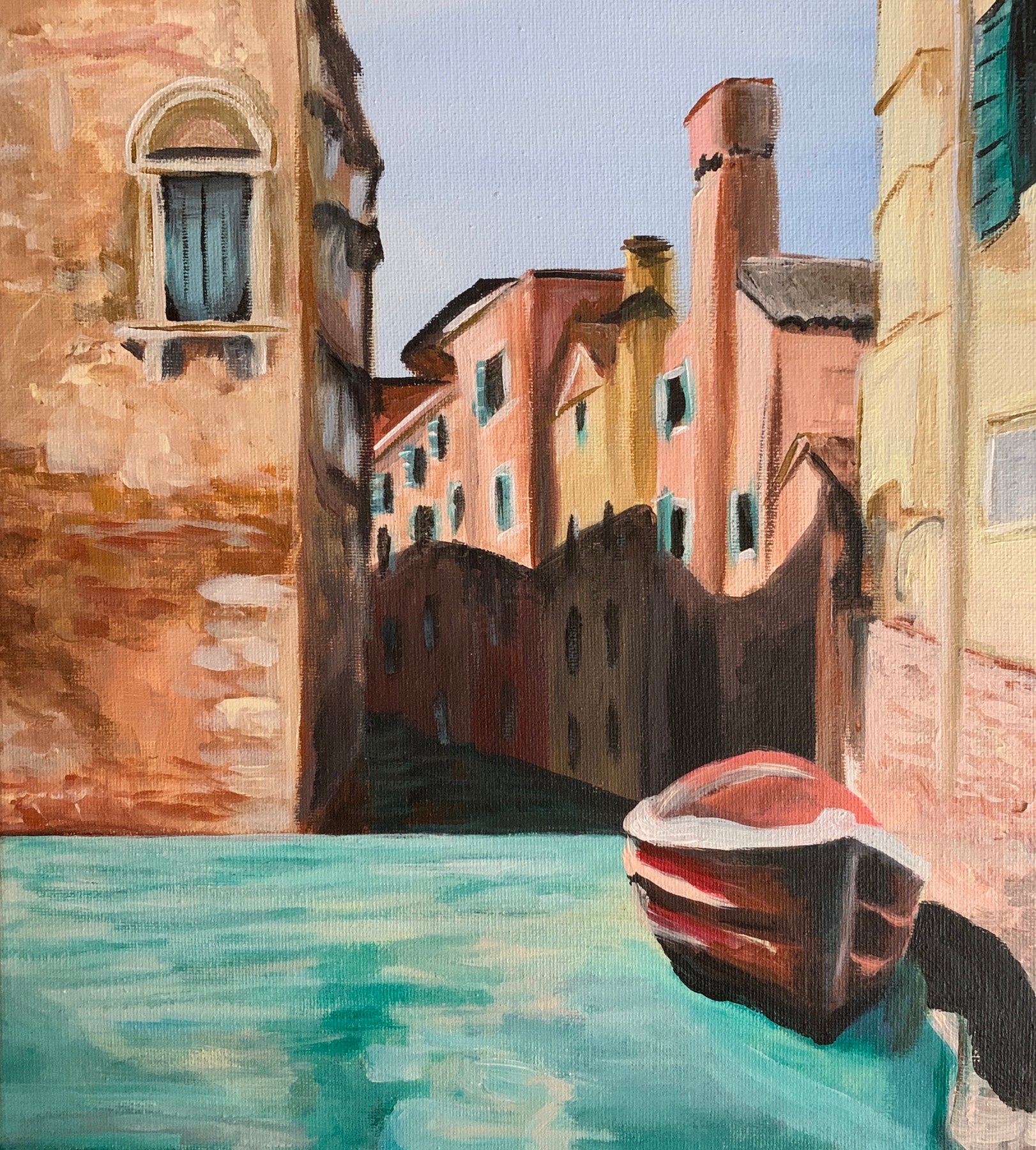 Lonely in Venice, 2019
stretched canvas with acrylic paint
11 x 14″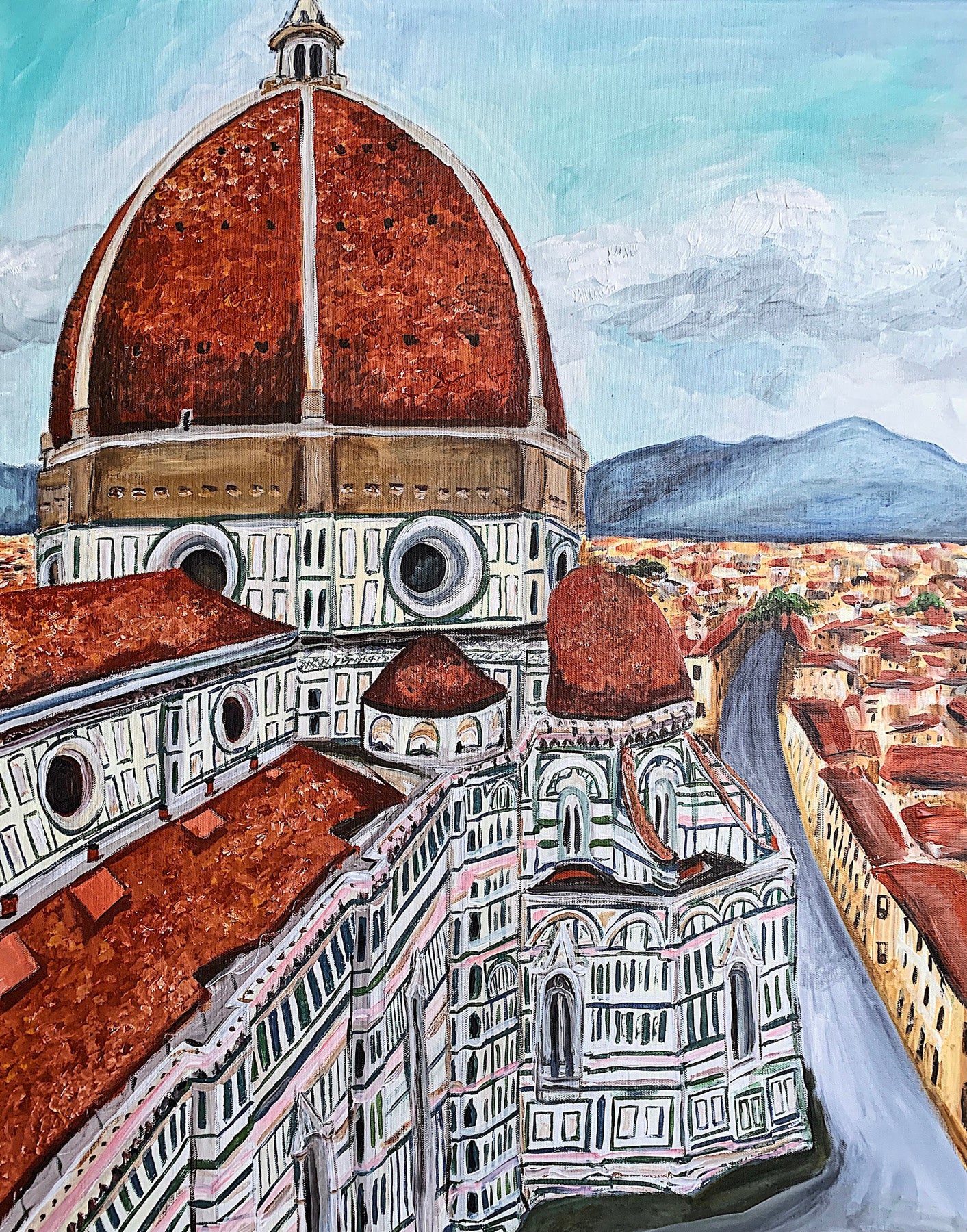 Duomo di Firenze, 2019
stretched canvas with acrylic paint
24 x 30″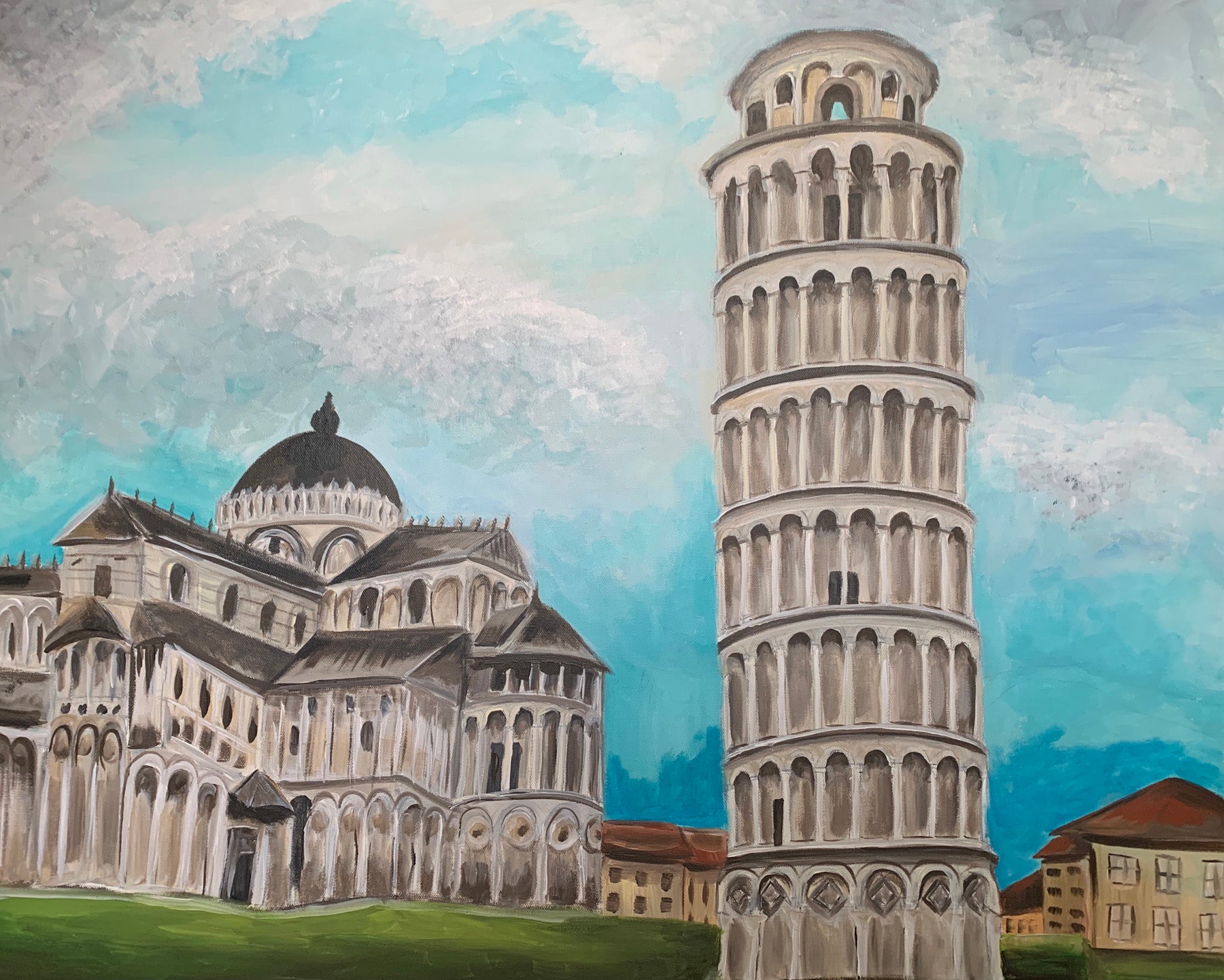 Leaning Tower of Pisa, 2019
stretched canvas with acrylic paint
24 x 30″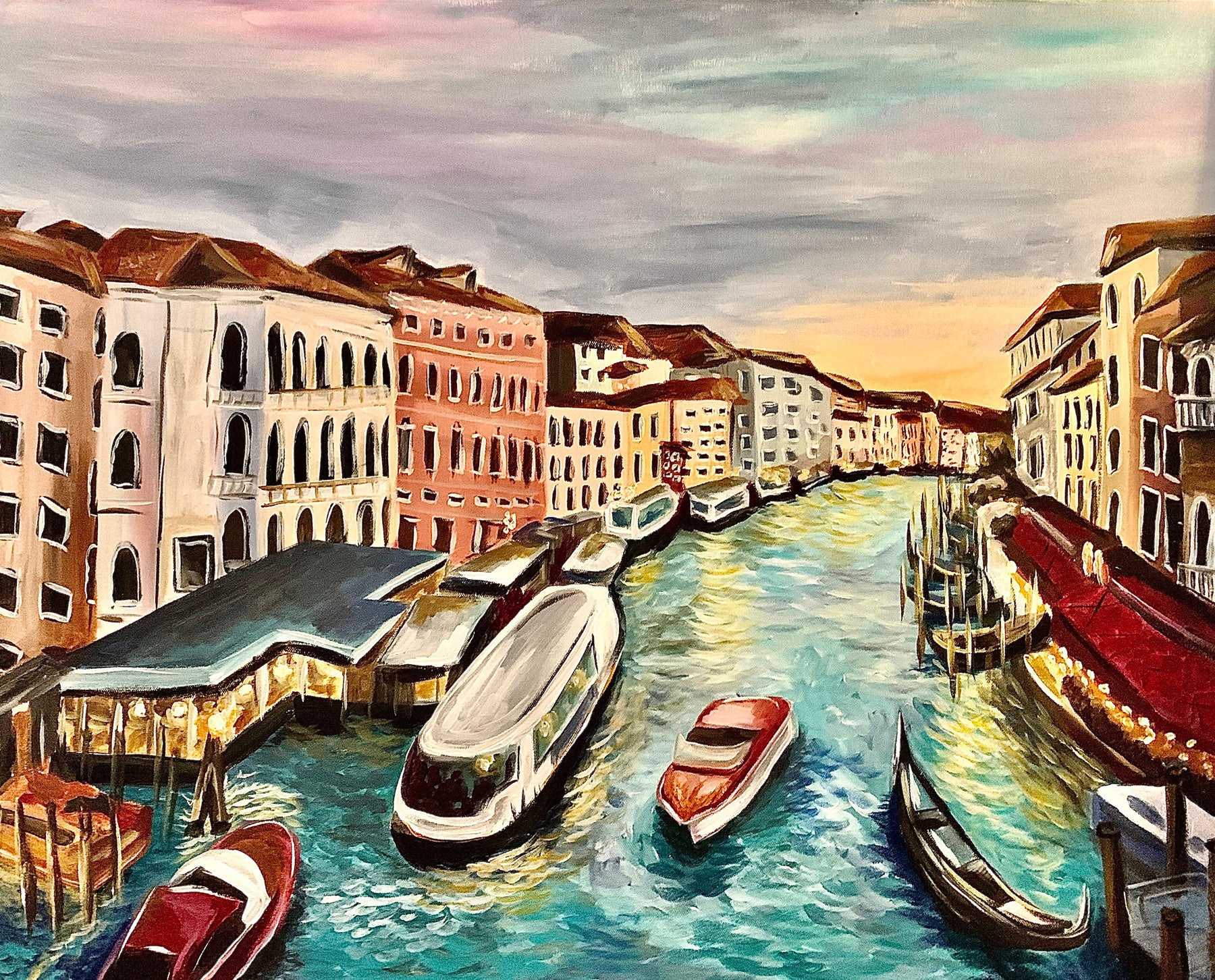 The Grand Canal, 2019
stretched canvas with acrylic paint
24 x 30″
---
Connect with Hannah
Instagram @HannahFaithCreations
Facebook Hannah Faith Creations
Website hannahfaithcreations.com