Caroline Waggoner
BFA '20 Painting and Drawing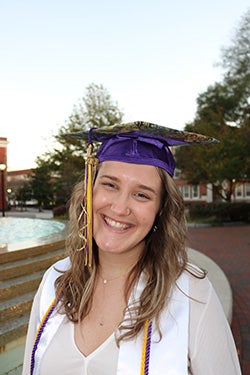 Artist Statement
Art Therapy—a psychotherapy practice that uses the act of making, whether it be sculpting, drawing, or painting—is a healthy and creative way for anyone to learn and discover more about themselves. Janice Lobban, a licensed Art Psychotherapist in the United Kingdom, practices a three-step process of Art Therapy that promotes self-exploration and acceptance.* This process asks a person to first create something with various materials that follows a prompt given by the therapist. Secondly, they reflect on what they create—while they do this they are challenged to think internally about what the work means to them. The last, and third, step is the most important, they are asked to provide context for what their piece represents in their actual life. Verbalizing their feelings and thoughts on the work is the therapy coming to fruition—it is when most progress in self-discovery is achieved.
This exhibition of work represents my application of the Art Therapy process as it is used to explore, and hopefully better understand, specific memories and feelings I experienced over the past four years. I mimicked the process by first making mini dioramas with found materials, mainly cardboard, fabric and acrylic paint; each of the four dioramas are of rooms that hold significant moments in my life I want to appreciate more fully. After creating the miniatures I reflect on them internally, and sometimes I do this with company. I represent this step by painting my vantage point as I look down at the hands holding each of the rooms. The last, most important step, is represented by the square paintings in which I paint self-portraits that visually encapsulate the memories of the room and how they make me feel. These self-portraits are accompanied with written explanations of the feelings within the memories I painted. Following this three-step process, of creating containers of memory, has granted me a deeper understanding and appreciation for my past which allows me to rejoice in the present moment and the work I create.
*Janice Lobban (2014) The invisible wound: Veterans' art therapy, International Journal of Art Therapy, 19:1, 3-18, DOI: 10.1080/17454832.2012.725547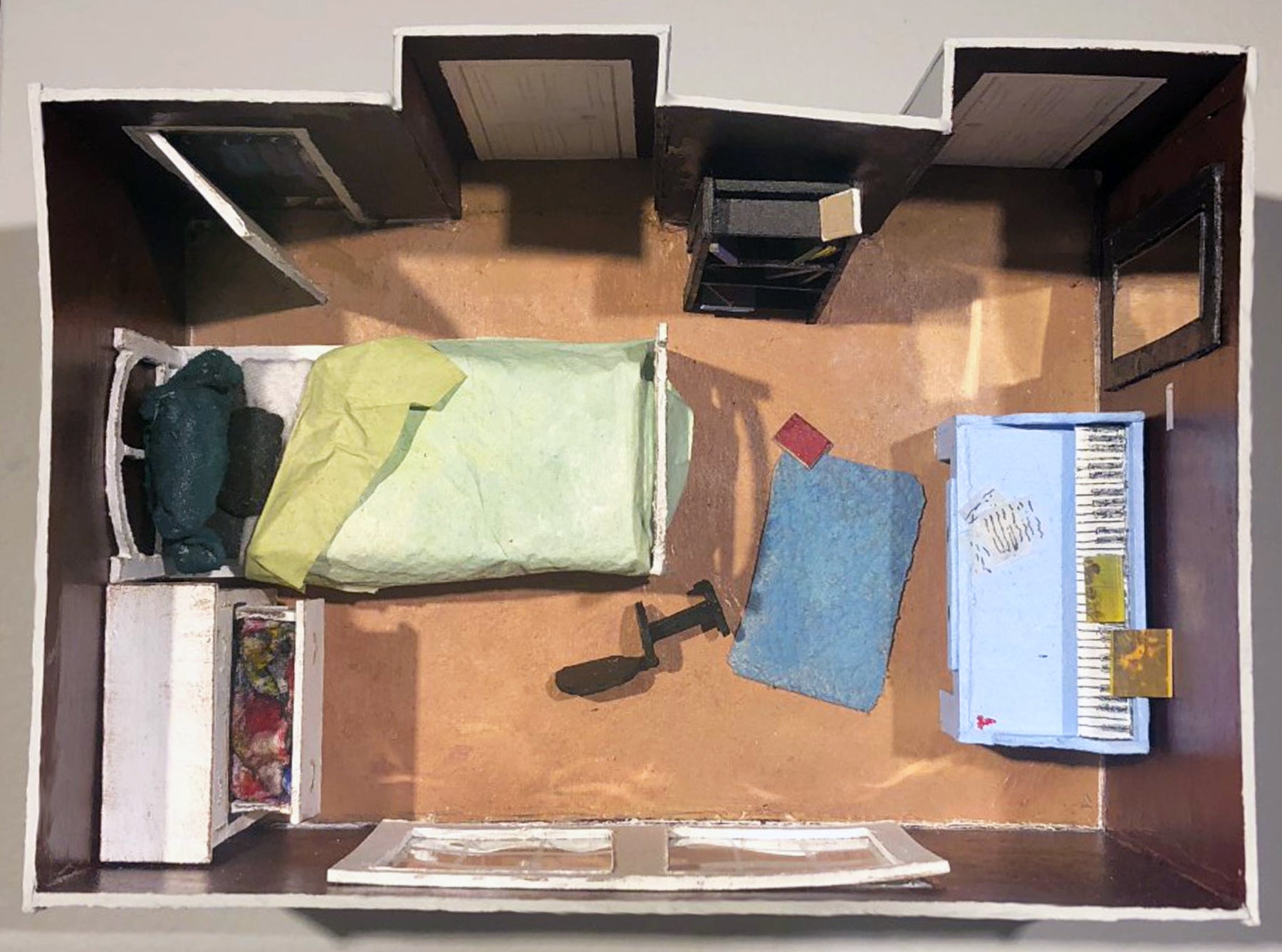 2016 Container, 2018
mixed media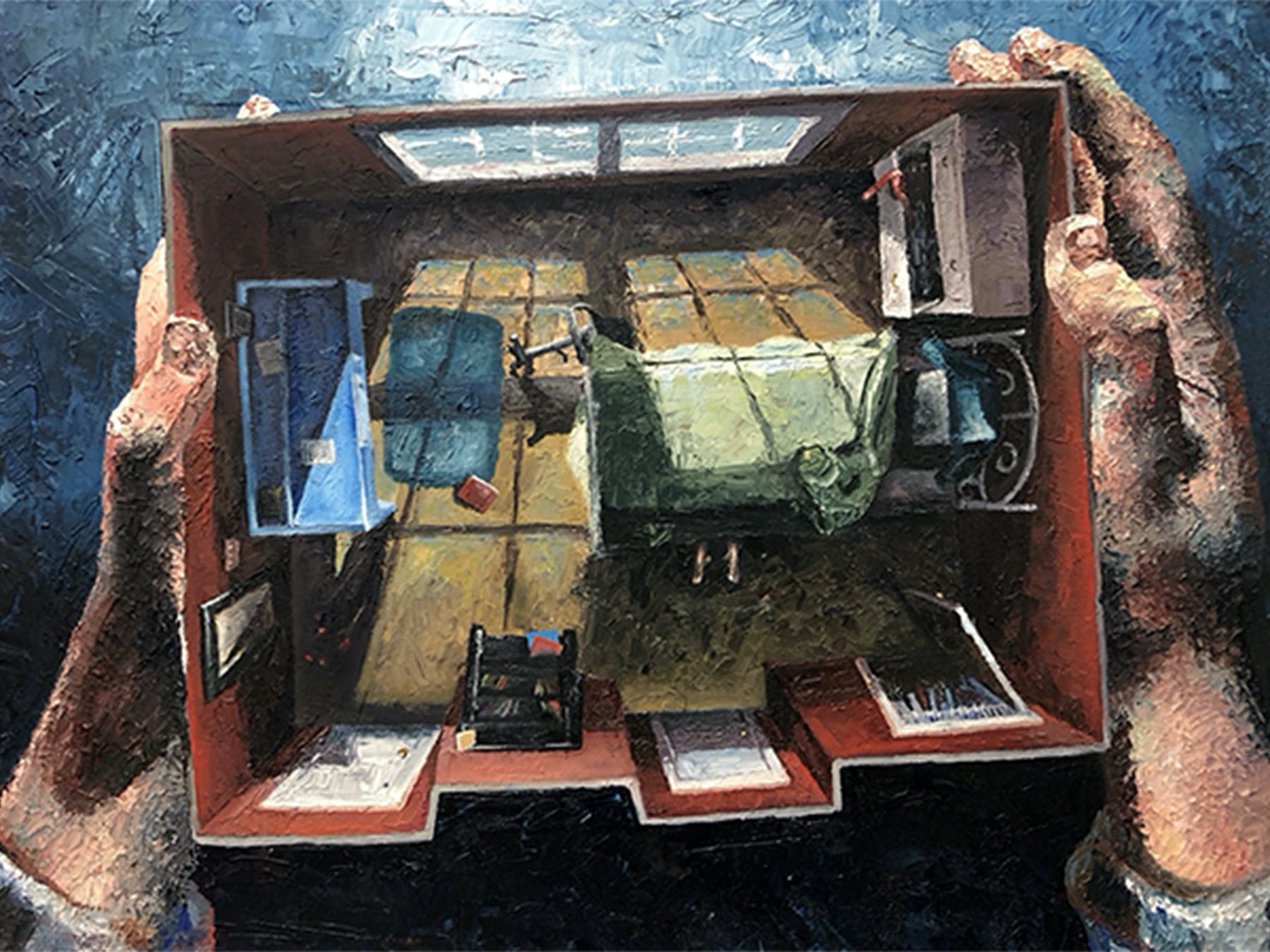 Reflecting on 2016, 2018
oil paint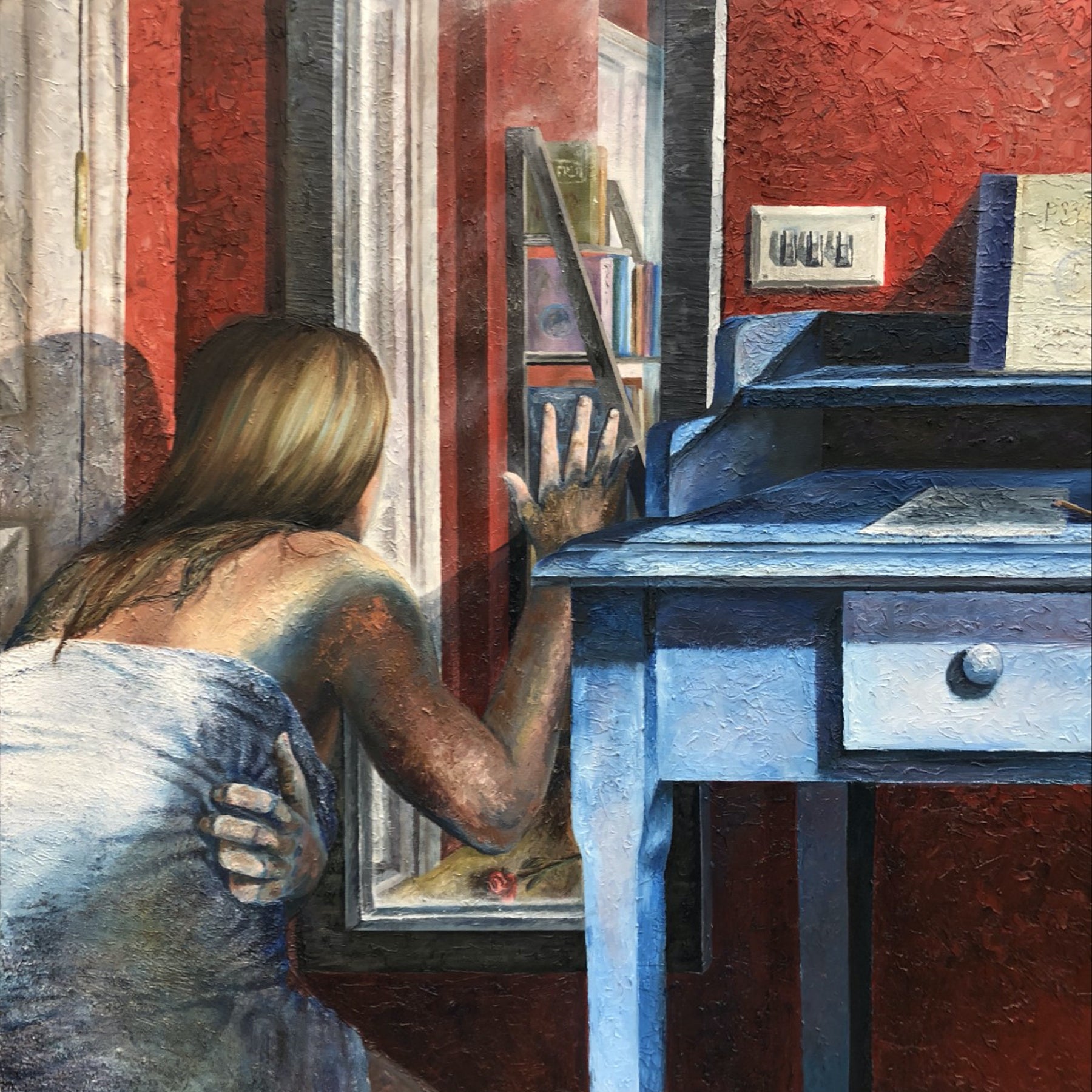 Intense escapism, 2020
oil paint
In 2016 I didn't have a strong grasp on my identity, and looking back at this room I can see the search for myself reflected in my surrounding environment. Although I was looking, at that time, I could not find within myself someone worth getting to know–this room that was once an escapist refuge became the place I wanted to escape from. It was confined by those walls that I found myself looking forward to college, I wanted to become someone new.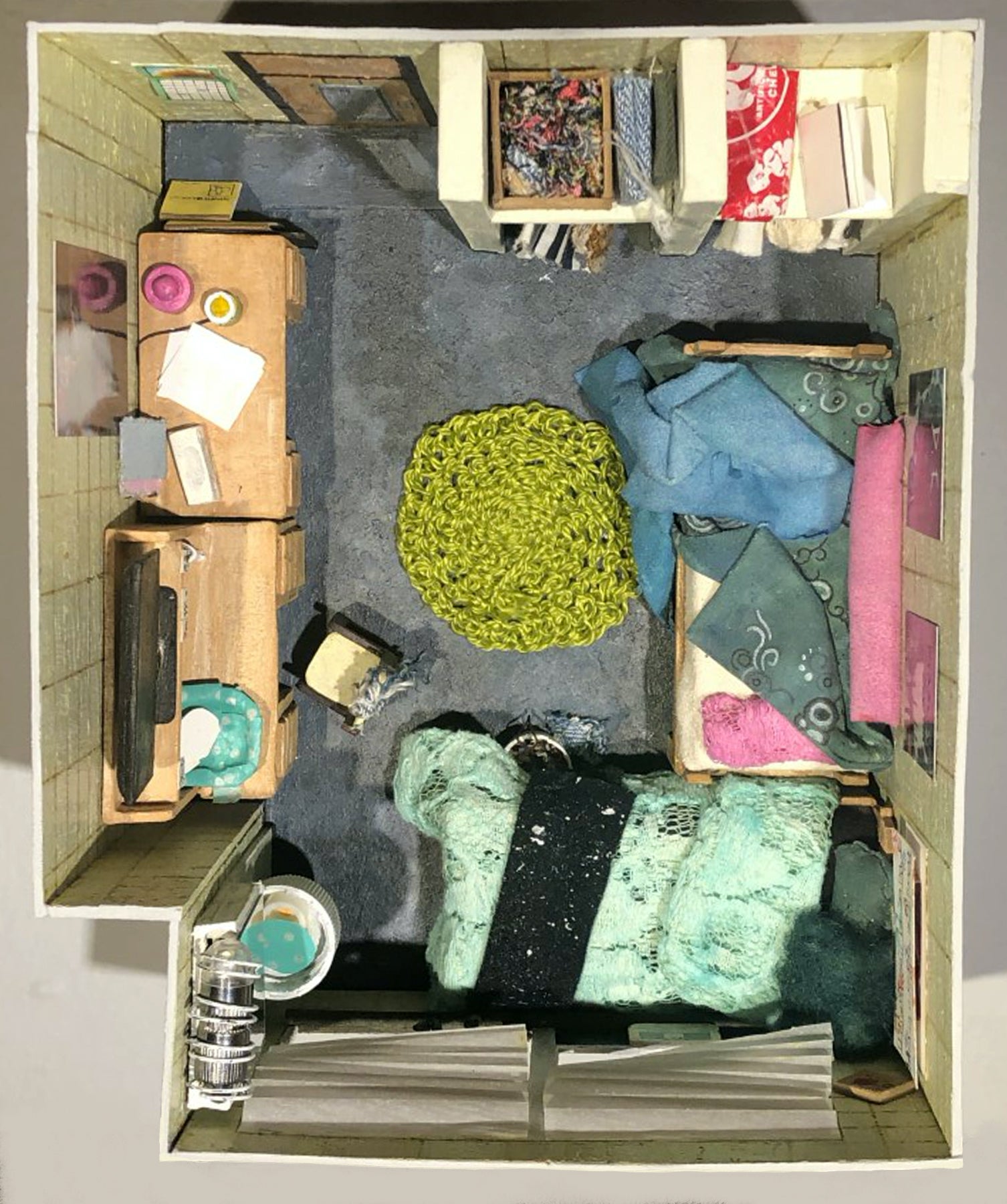 2017 Containter, 2019
mixed media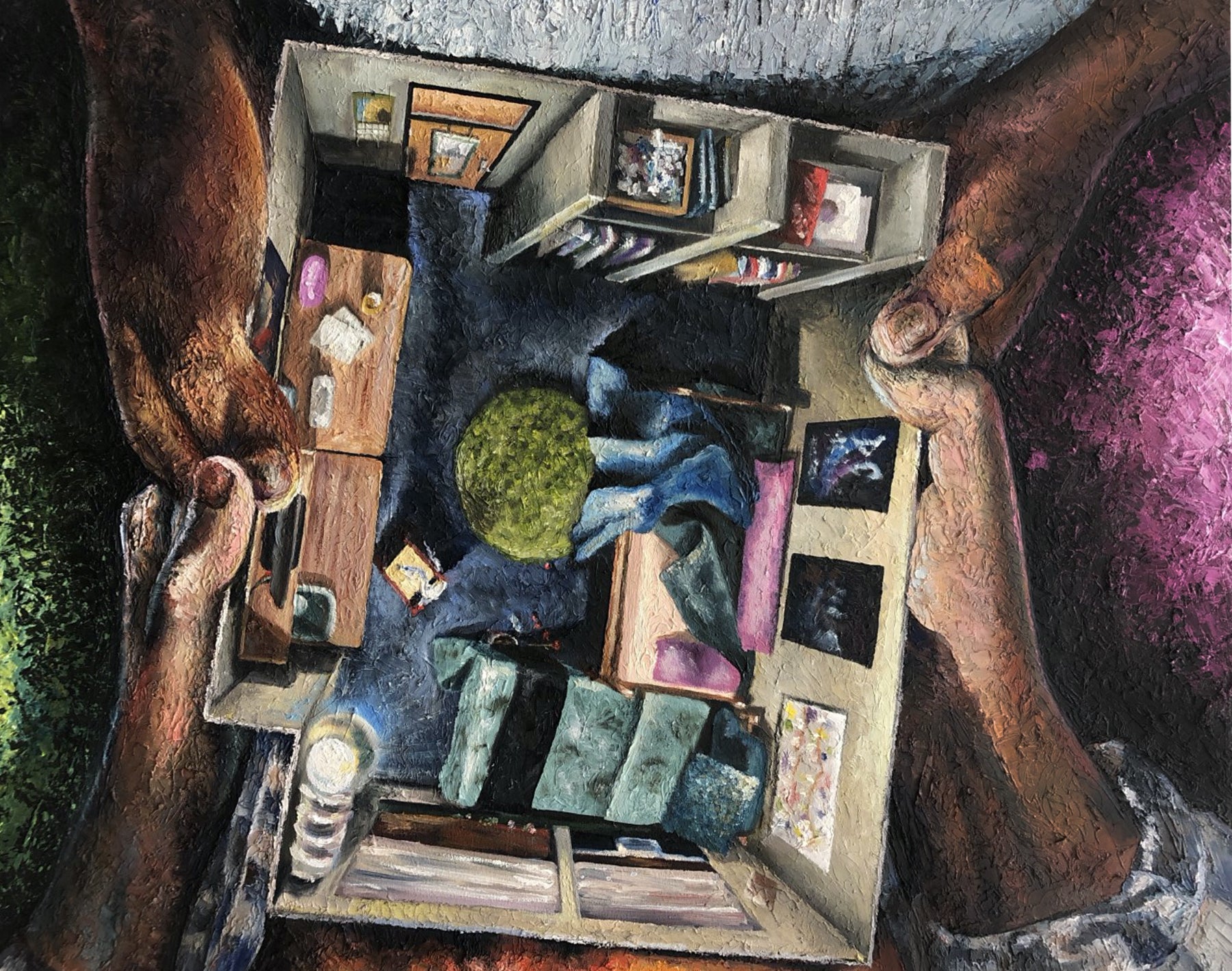 Reflecting on 2017, 2020
oil paint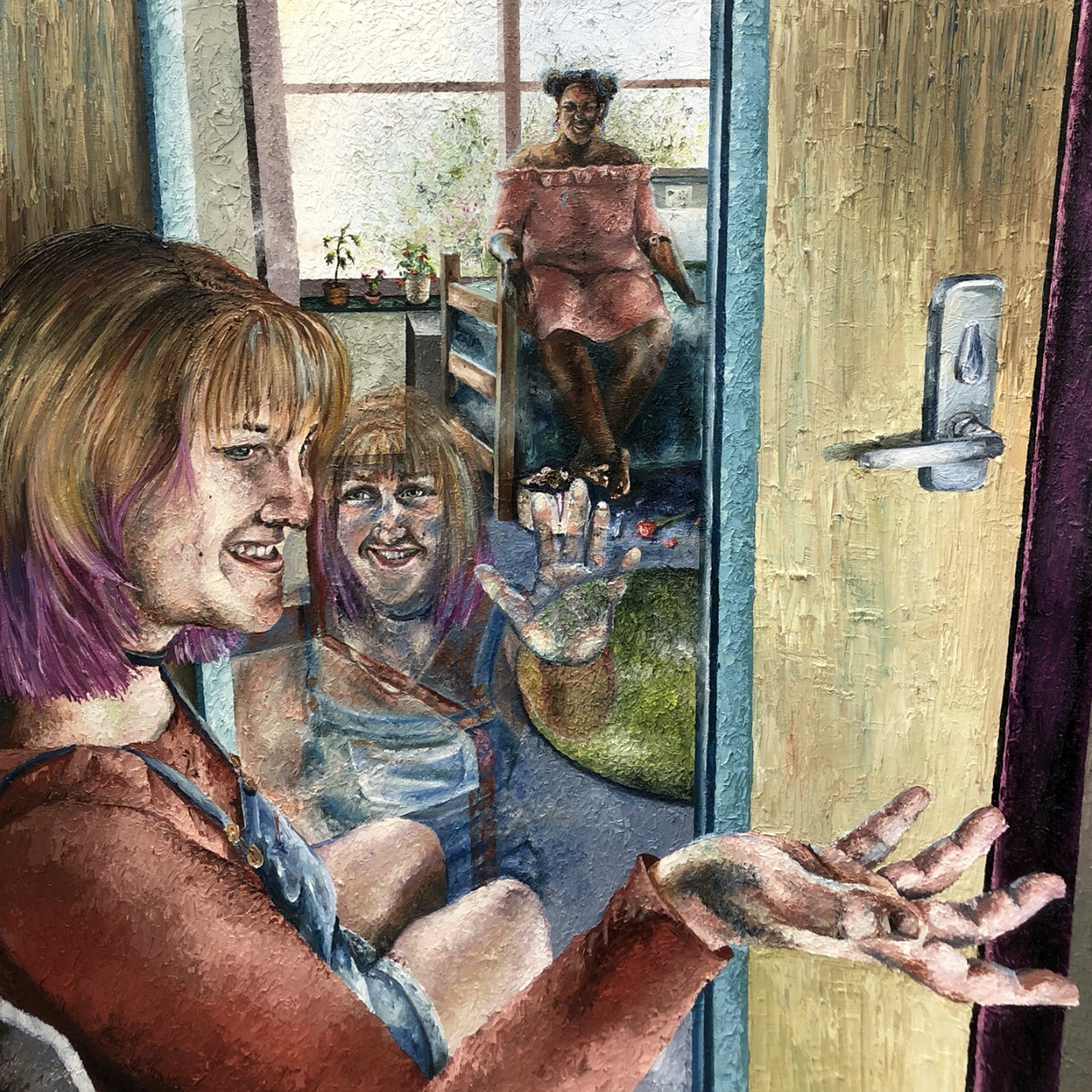 Great Discovery & Renewed Excitement, 2020
oil paint
These walls hold special memories as they watched my friendship with my roommate begin, they remember seeing the rapid growth within me brought on by her encouragement of self-expression. Timid at first but growing more confident as the year progressed–I changed things about my outward appearance in an effort to better reflect how I was changing on the inside. Throughout my exploration I was learning more about who I was and what I was passionate about–psychology, painting, and strong relationships.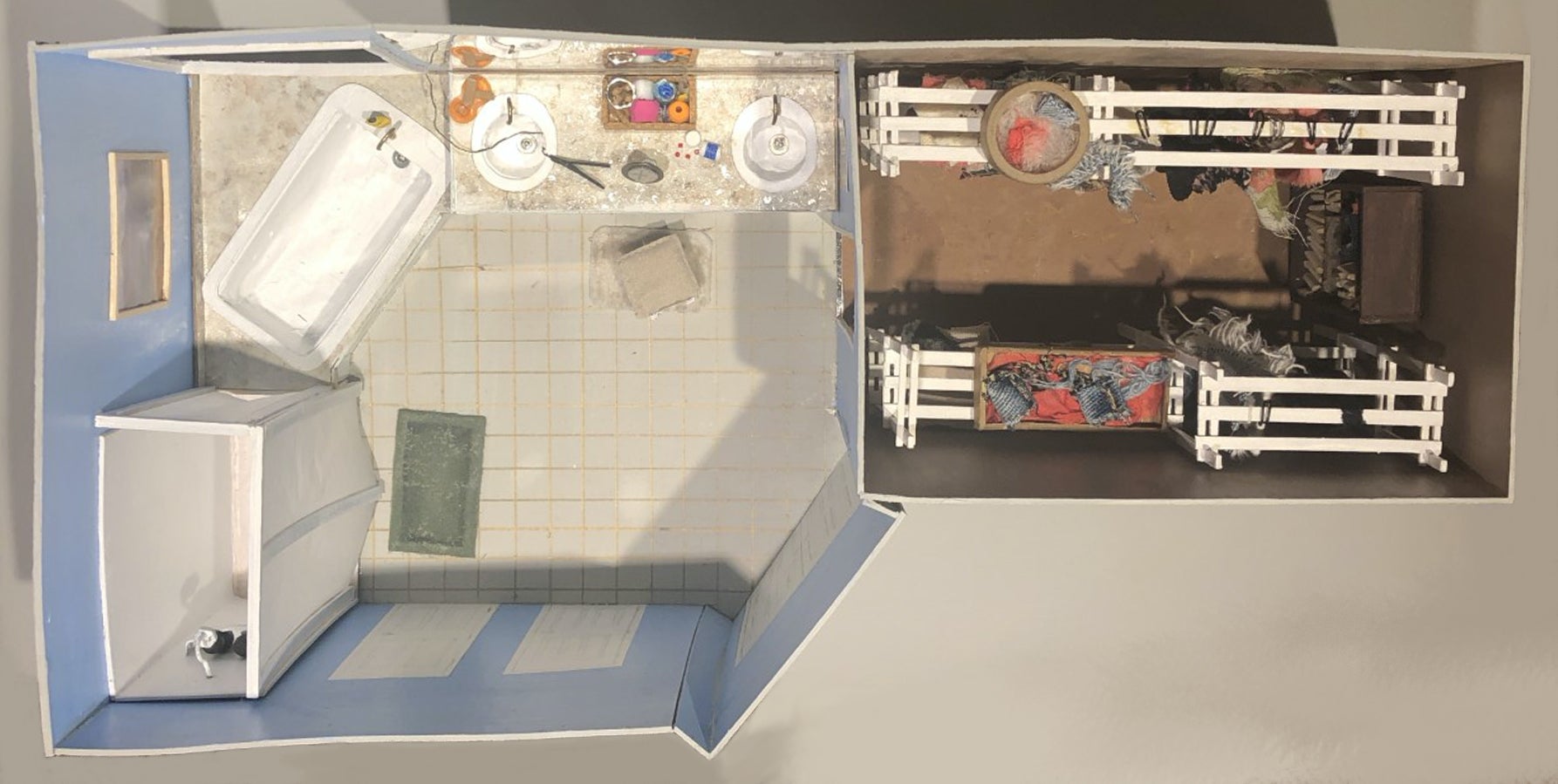 2018 Container, 2019
oil paint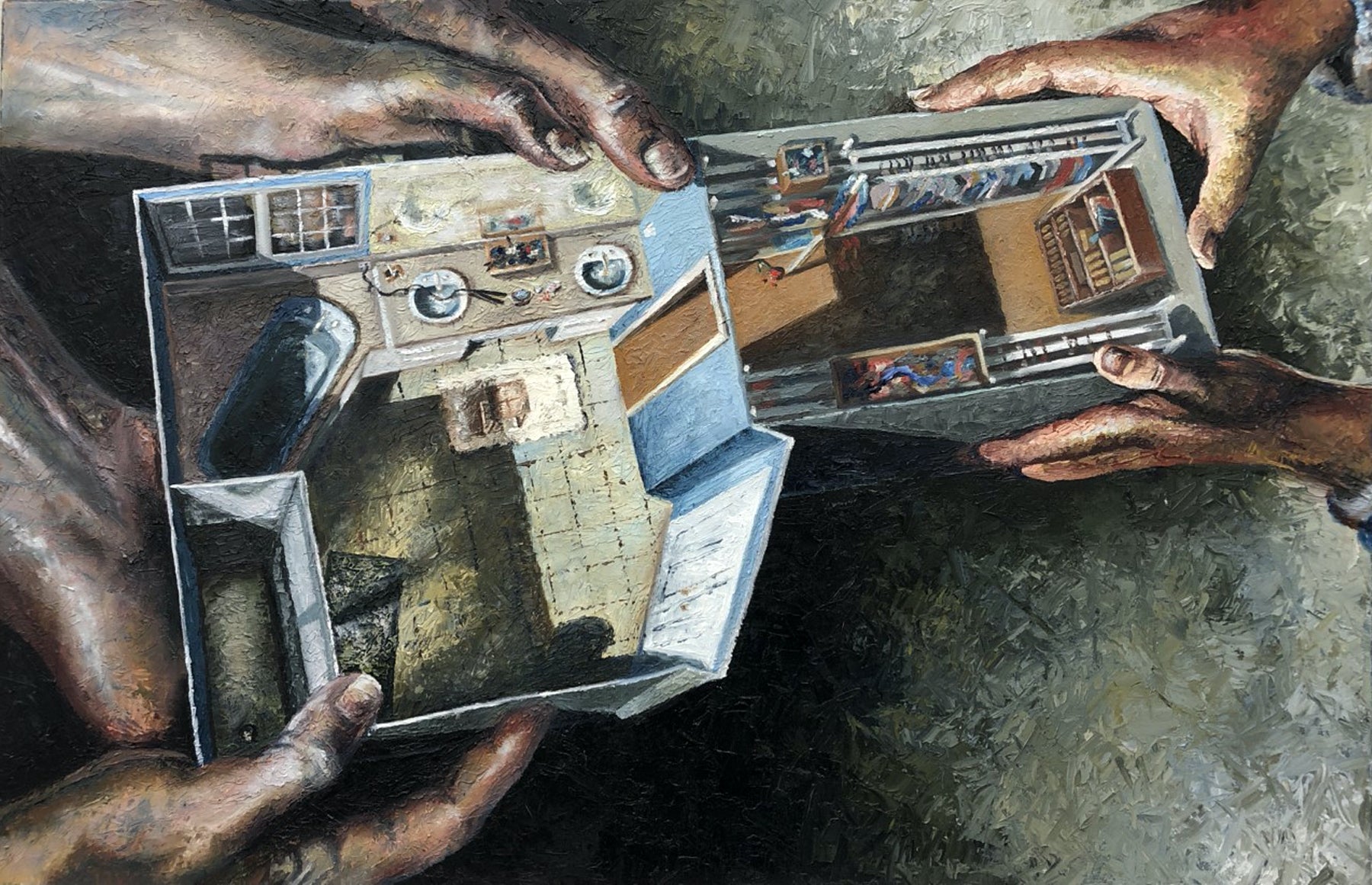 Reflecting on 2018, 2019
oil paint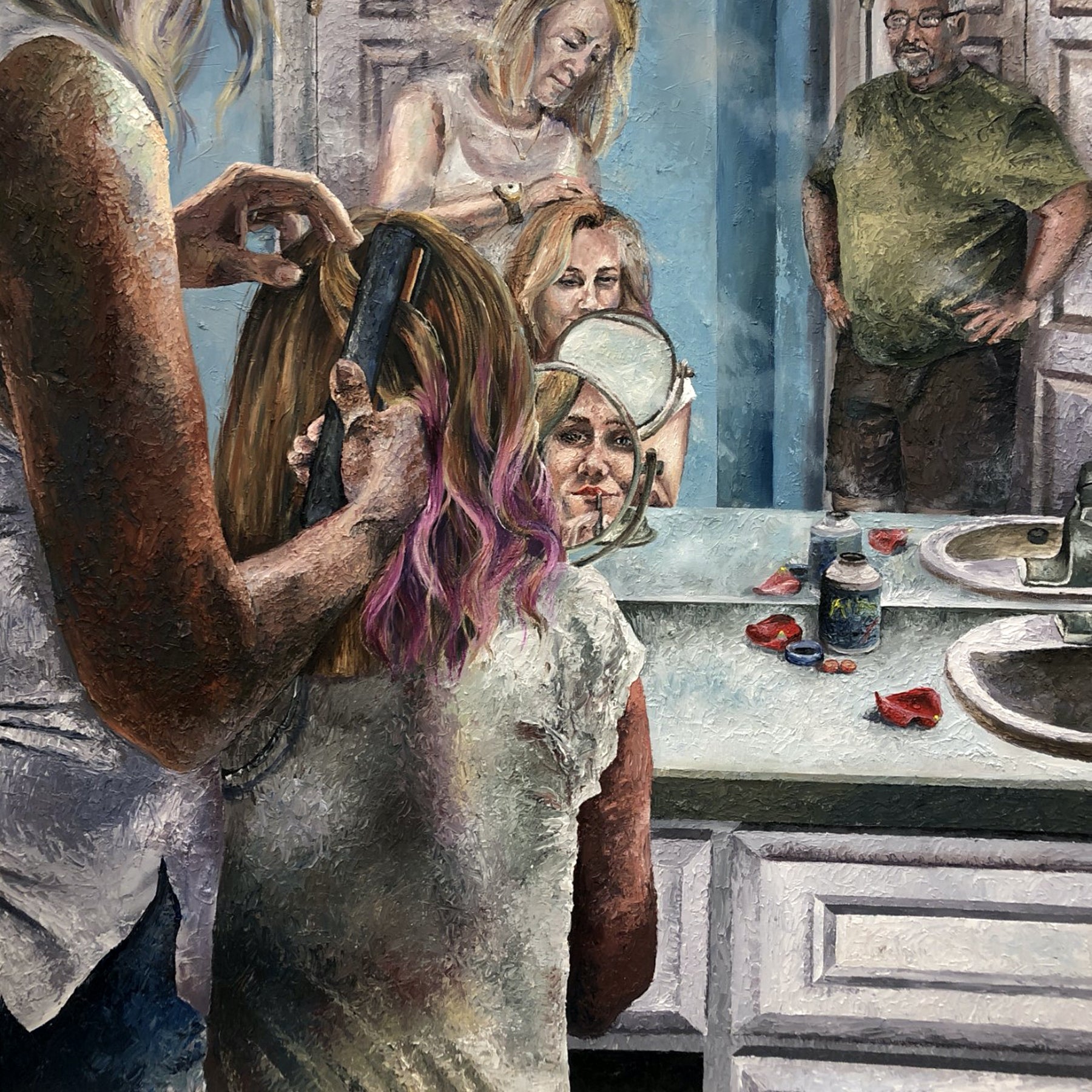 Nostalgia & Humbled Appreciation, 2020
oil paint
Looking at my parent's bathroom I see the place where they helped me get ready for the day's events when I was young. Now this room represents a place of transition for me and my relationship with my parents and my family. In 2018 I relied heavily on my family as my support system; watching their strength and listening to their advice humbled me and helped me to grow. Throughout my life my parents always recognized in my reflection a daughter trying to find herself, and I feel deeply grateful that my reflection holds them in it too.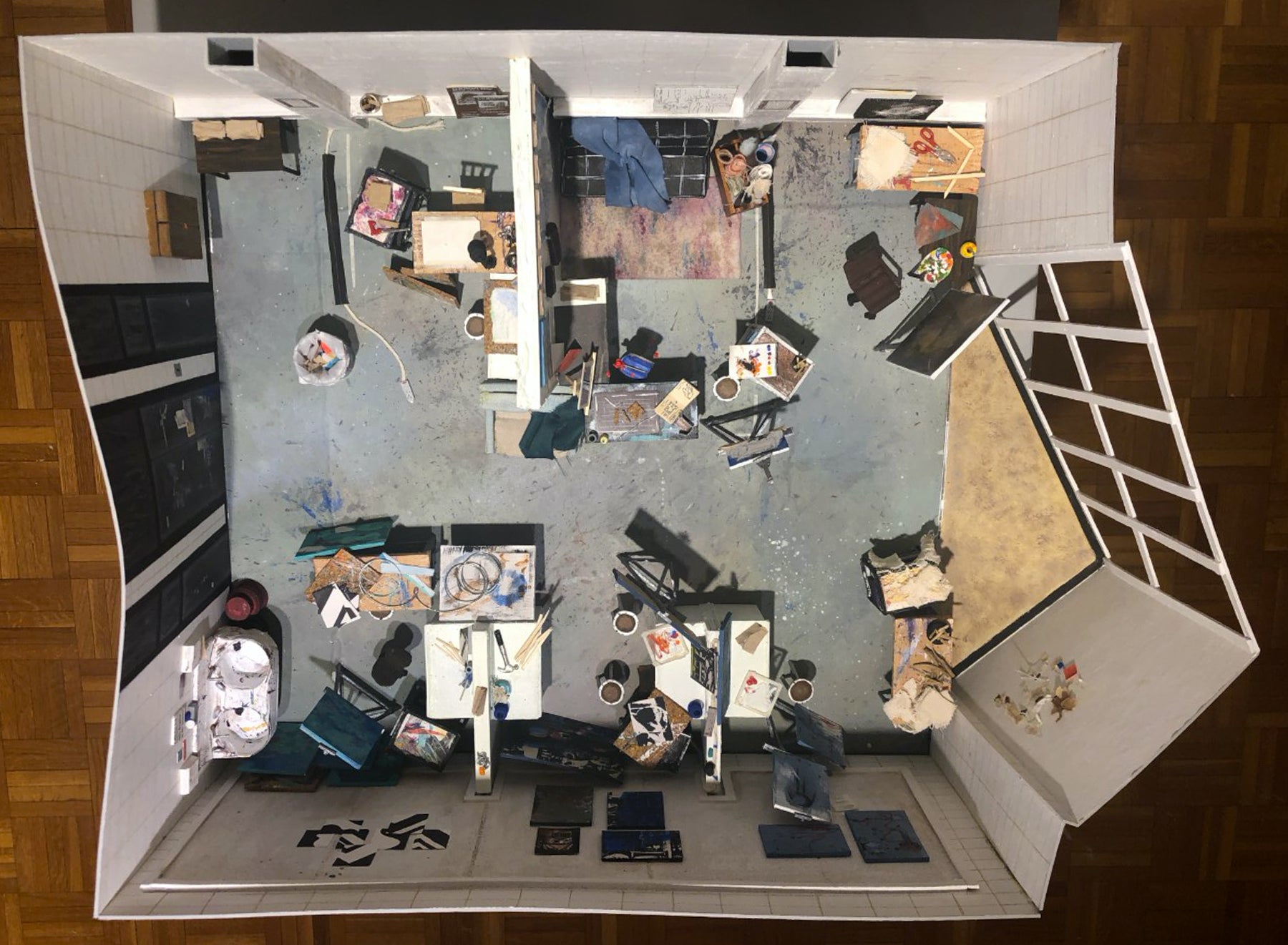 2019 Container, 2020
mixed media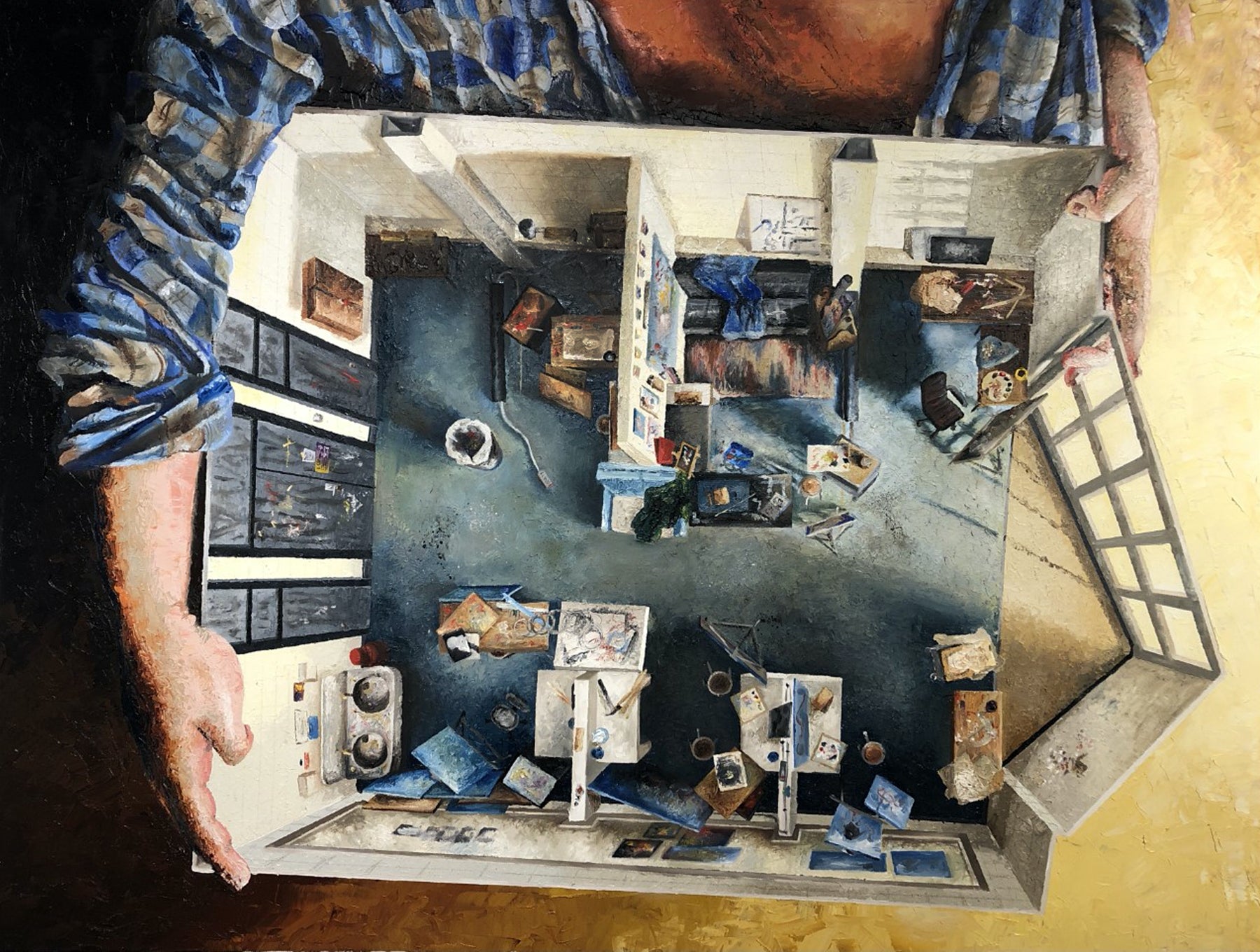 Reflecting on 2019, 2020
oil paint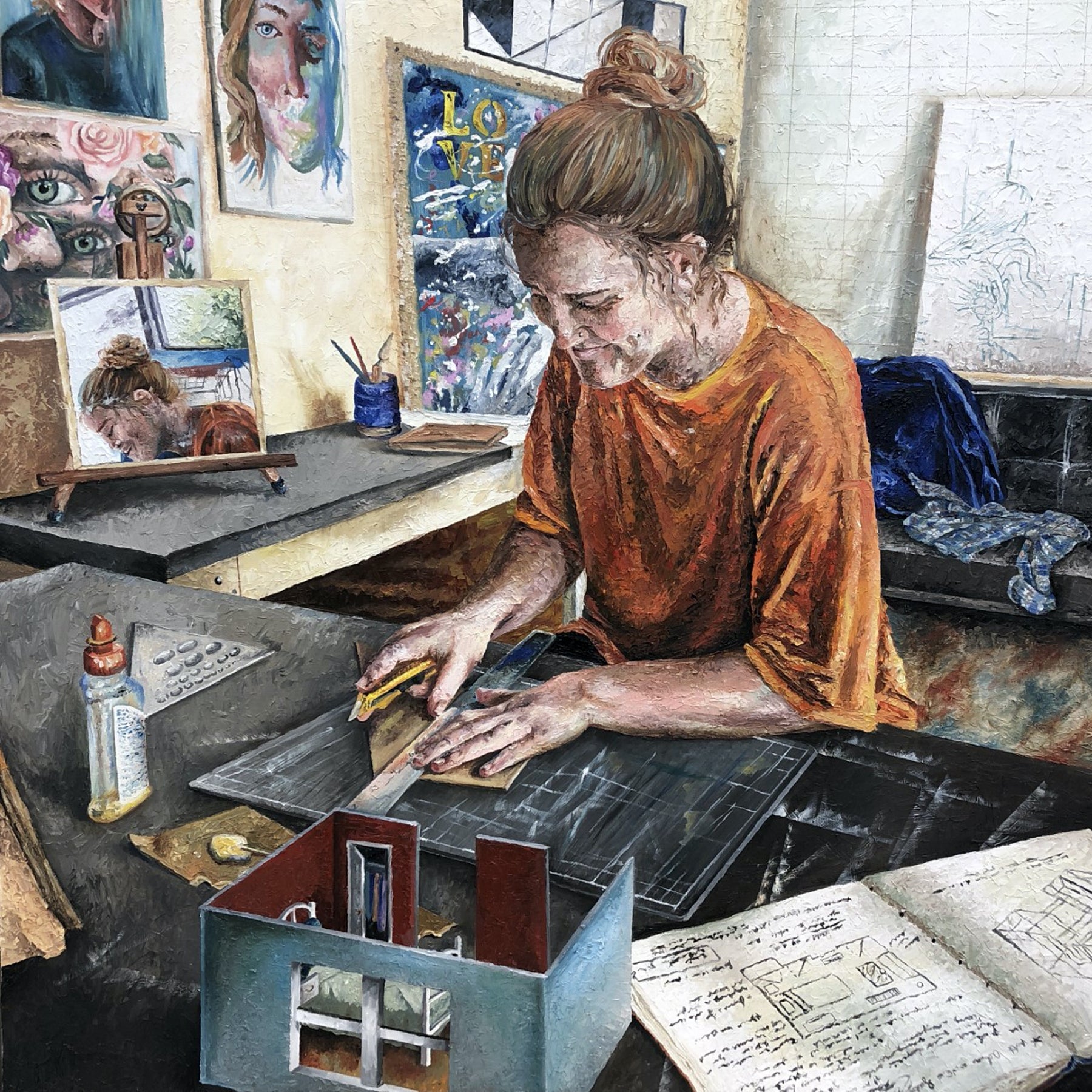 Belonging and Security, 2020
oil paint
It was in this home away from home that I began to fully express myself artistically. I made pieces that reflected my passion for psychology and my need to feel understood. This space awoke in me the understanding of how my process reflects that of Art Therapy and how creating helps me to better articulate who I am and discover new things along the way. I am so thankful for the love and acceptance this place has given me.
---