Keaton and Umberger Gala Art Auction and Sale
Join us for a gala event featuring the sale of artwork from the collection of Benjamin Keaton and Ranny Umberger. From contemporary to classical, landscape, abstract, and figurative paintings and prints, coastal-themed artwork, sculptures, ceramics, glass, quilts, Native American artwork, original paintings by Ranny Umberger, and more—there is something for everyone. The Keaton & Umberger Collection is available for preview—free—beginning January 31.
The Collection will be sold only during the ticketed Gala Auction and Sale. Most items will be priced, some will be on silent auction, and select pieces will be auctioned live.
The evening includes hors d'oeuvres, wine, and beer provided by local establishments. All proceeds will support scholarships and programs in the School of Art and Design. This event is sponsored by the Friends of the School of Art and Design.
Preview the Collection through the event catalog here.
Gala Art Auction and Sale
Saturday February 15, 2020 • 6–9 pm
For Friends members the doors open at 5 pm
Tickets $25
Collection Preview (free)
January 31– February 14 • Monday–Friday, 9 Am to 6 pm
Wellington B. Gray Gallery, Jenkins Fine Arts Center, ECU
Special thanks to our sponsors:
Michael Cable, auctioneer, Woodside Antiques, Farmville, NC
Event Details
Live auction begins at 7 pm.
Silent auction ends at 8:30 pm.
Artwork that is priced may be purchased at any time during the Gala. Sales begin at 5 pm when the doors open to Friends members.
Silent and Live Auction item winners will be announced and must be purchased after each auction ends.
Visa, MasterCard, Discover, checks, and cash accepted.
All purchases must be paid in full by the end of the Gala.
All sales are final. All items sold "as is."
Artwork may be collected once it has been purchased; staff will remove items from the Gallery and prepare them for purchaser. Purchaser must collect purchases during the Gala or February 17, 18, or 19 between 9 am and 6 pm from the Gray Gallery. Purchases left beyond these dates may be forfeit.
If available, all provenance information will be provided for the art work (e.g. original receipts of sale, etc.). Not all items have such information.
Items that have been sold will be denoted with a red dot on their label in the Gallery.
Free limited parking around Jenkins Fine Arts Center will be available for the Gala. Guests may also park in the new ECU parking garage; we will validate parking.
Complimentary parking is available in front of the Gray Gallery on a first-come, first-serve basis for the Collection Preview.
The Gray Gallery is located off of Fifth and Jarvis Streets on the campus of ECU.

Sculpture and posters celebrating the dramatic arts from the Keaton & Umberger Collection.

Realistic and abstract paintings will be available at the sale.

The sale will include work by ECU alumn Bob Rankin.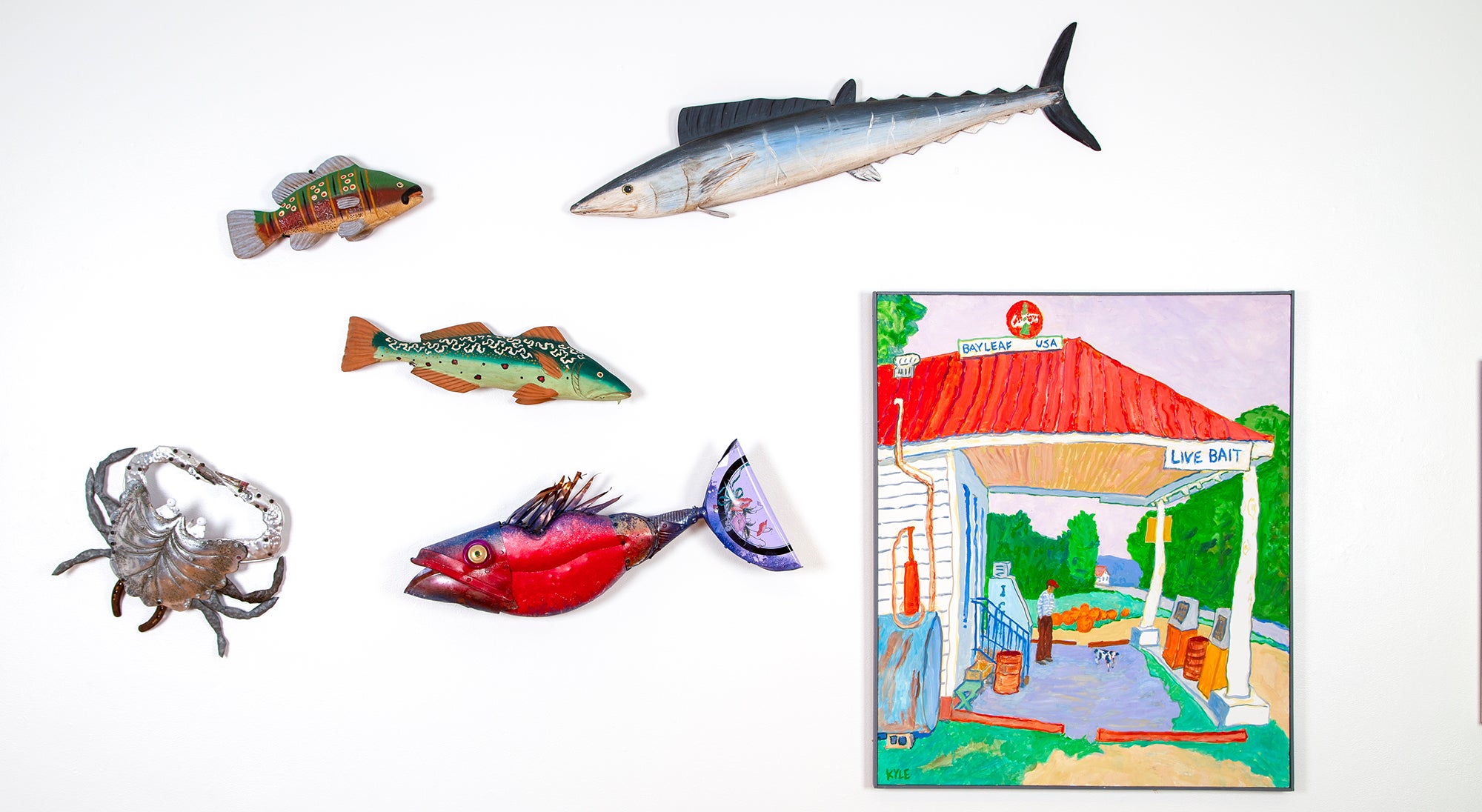 Decorative objects for sale include a variety of sealife sculptures and coastal themed pieces.
Individuals requesting accommodations under the Americans with Disabilities Act (ADA) should contact the Department for Disability Support at least 48 hours prior to the event at 252 737-1016 (voice/TTY).