School of Art and Design Juried Undergraduate Exhibition Fall 2021
October 11 – Friday, November 12, 2021
Virtual Juror's Talk and Awards Announcement :: 
Wednesday October 27 @ 4 pm
Juror :: Steve Prince | Artist, Educator, Art Evangelist   
T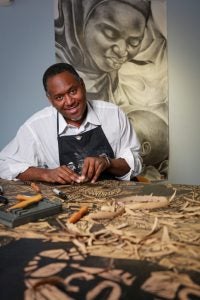 his year we are honored to have Steve Prince serve as our juror. Steve Prince is a native of New Orleans, Louisiana, and currently resides in Williamsburg, Virginia. He received his BFA from Xavier University of Louisiana and his MFA in Printmaking and Sculpture from Michigan State University. He is the Director of E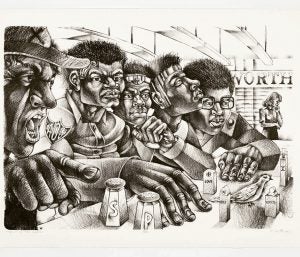 ngagement and Distinguished Artist in Residence at the Muscarelle Museum of Art at William and Mary University. He has created several public and private commissions nationally and he has received numerous honors for his art and scholarship including the 2020 International Engage Art Contest Visual Art Grand Prize Winner, and the 2010 Teacher of the Year for the City of Hampton. Prince has shown his art internationally in various solo, group, and juried exhibitions including the Ohr O'Keefe Museum, Grand Rapids Art Museum, Katzen Museum at American University, Contemporary Art Center | Virginia Beach, Union University Gallery, Wesley Theological Seminary Gallery, and Calvin College Museum to name a few.
He is an accomplished lecturer and workshop conductor in both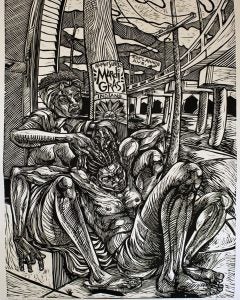 sacred and secular settings internationally through a variety of media. In 2019 he worked with over 500 people to create a collective art piece focusing on the history of chattel slavery stemming from the first documented Africans arriving on the shores of Point Comfort in 1619. His project was called Links which metaphorically championed the inextricable connections we have as human beings. Prince spreads a message of hope and renewal to the global community. His philosophy is derived from the cathartic Jazz funerary tradition in New Orleans, Louisiana called the Dirge and Second Line. Conversely, the Dirge represents the everyday issues and pains we confront and endure, whereas the Second Line represents new life, restoration, salvation, and yearning for the eternal while we are still alive.
Prince is represented by Black Art in America, Zucot Gallery, Stella Jones Gallery, and Just Lookin' Gallery.
---
Exhibition Schedule
Call for entries opens September 10, 2021 and closes September 24 at midnight MST.
Notification of acceptance September 30
Artwork Drop-off in the Gray Gallery – October 4-5
Artwork pickup, November 9-11
 Awards
Best in Show $500
Second Place $300
Third Place $200
Merit Awards 10 at $100 each
Friends of the School of Art and Design Awards 2 at $150 each
Nell Cole Graves Award for Ceramics $100
For group awards, prize money will be distributed evenly. Award funds will be distributed through student financial accounts.
---
Call for Entries
We invite currently enrolled undergraduate students in the School of Art and Design to submit up to four solo pieces and up to five collaborative pieces to the Juried Undergraduate Exhibition Fall 2021. Work must be completed between November 2020 and September 2021 as part of Art and Design coursework. Work cannot have been previously submitted to the 2020/2021 Juried Undergraduate Exhibition. Entries will be submitted online via Cafe. Link to come.
Eligibility: 
Students must be currently enrolled as an undergraduate student in East Carolina University School of Art and Design.
Works must be completed between November 2020 and September 2021 as part of coursework in the School of Art and Design.
All media are eligible.
 Entry Requirements: 
Students may submit up to four individual pieces and may be collaborators on up to five additional pieces.
There is no fee to enter artwork, however the application will not complete and upload if the payment process is not completed.
Collaborative pieces must be submitted under a group account at CAFE.
Entry Requirements:
Preferred Name (to be used on the exhibition website)
Legal Name
Banner ID
Email address
Telephone number
For each piece submitted the following information is required:
Title of Work
Work Medium – (what it is made from)
Work Dimensions (width x height x depth)
Course number and name that work was completed in

(e.g.) ART 2230 Illustration Survey or ART 1014 Narrative in Art and Design

Course Instructor
Semester work was completed (Fall, spring, or summer) and year
Email graygallery@ecu.edu with questions