School of Art and Design Alumni Exhibition 2021
Back to Janice Hardison Faulkner Gallery, Joyner Library
Back to Alumni Exhibit main page
Wellington B. Gray Gallery Exhibition
Pitt County Arts Council at Emerge
Sherry Thurston
Graduated 1971
It was an honor to be a graduate of the ECU Art Department in 1971. I even had a class with Dr. Wellington B. Gray. He was very interesting an he enjoyed teaching! So glad he did his enthusiasm made an impact on me. I was well-equipped for several careers in art! ECU offered a range of studio courses that helped me as a teacher on all levels. I also used those skills as an Illustrator in a Civil Service job at Camp Lejeune NC for three years. Teaching in the public schools was my favorite. I was able to teach on all levels: Kindergarten to College in outreach classes for Coastal Carolina Community College. In 1980I was able to buy The Original Free Will Baptist Church in Sneads Ferry, NC. The preacher was Harry Potter when it was established in 1939. This added a uniqueness to the gallery. It was years that JK Rowling wrote a book about Harry Potter. Folks chuckled about the name when he is mentioned. I worked 5 days a week teaching and painting portraits, architectural houses and logo designs and scenic places along the coast of the beach and farm land. On Saturdays for over 40 years the art gallery was a safe haven to create and meet people and sell my art. It was a true gift from God.
As the years progressed and I was close to retirement I saw an Arcadia book in Asheville with some teachers at our Art Conference and I liked it. In 2011 my son, Joshua Thurston MA Spanish UNCC and I decided to do a book on SNEADS FERRY.
We gathered over 200 photos and wrote it in two years. It was a huge success with the town's people and continues to sell. One exciting moment was my holding an original document written in 1792 with Governor Alexander Martin's signature on it . The Governor set Robert Whitehurst Snead free from a murder conviction. Our town name Sneads Ferry from his father, Robert Snead.
I found out that I like doing portraits and scenes mostly. Fortunately, I live 10 minutes from North Topsail Beach one of the loveliest places we have here at Topsail Island. I am submitting some of my scenes to be considered.
Thank you, Sherry W Thurston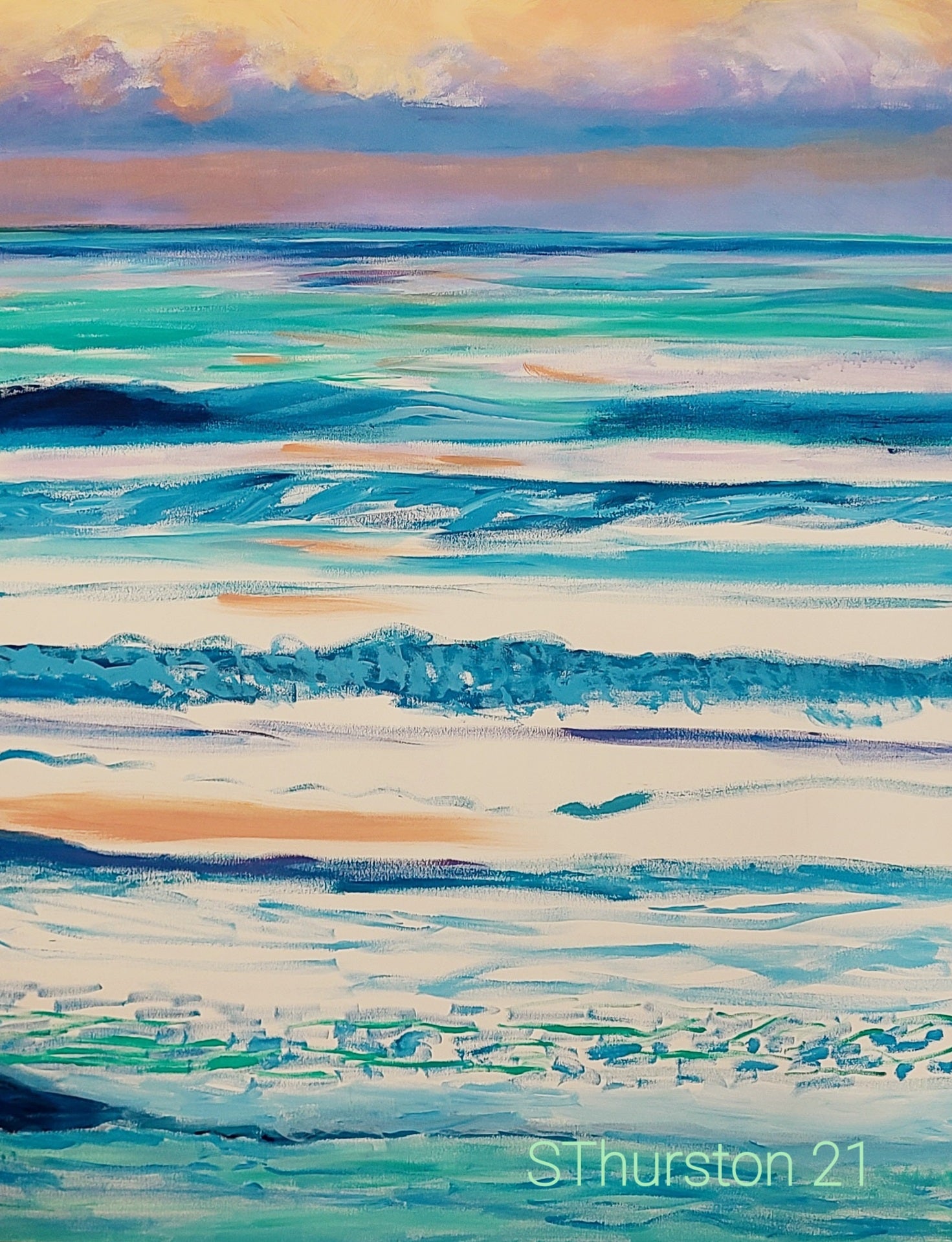 Ocean Stairs, Acrylic, 5′ x 4′ x 1.5″, 2021