School of Art and Design Alumni Exhibition 2021
Back to Janice Hardison Faulkner Gallery, Joyner Library
Back to Alumni Exhibit main page
Wellington B. Gray Gallery Exhibition
Pitt County Arts Council at Emerge
Michelle Harrell
Graduated 1997
I was raised in North Carolina. My family's ancestors go back about 13 generations here. I've chosen to raise my own family in this place where my deep roots grow. I often think about how creating a space that represents home has been a central part of women's lives for centuries. When I see a pineapple doormat, I think of the layered histories of my Southern heritage. I often feel this place radiates something spiritual from our past, histories layered with memories.
Because place is key to my identity, I want to immerse my viewer in the Southern landscape I know intimately and the stories our South holds. Those stories distort and fade in time with significant features exaggerated or even omitted. In my art, I try to unpack my observations, reflections, and ponderings about the relics and rituals of our lives. Light saturated with color creates a sense of place in both my memory (my emotional response) and the atmospheric effect of season and time of day (my physical response). The stories of those places find themselves woven through the landscape through an additional layer of ephemeral (handwritten notes, family photographs, maps, recipes, etc.).
Through my art journal, mixed media paintings, and monoprints, I hope to capture these layered histories, the fleeting visual impressions of these places, and the emotions their stories trigger for me. Through my art journal, mixed media paintings, and monoprints, I love artful play in collaboration with others to discover how our stories overlap. In addition to being a studio artist, I am the director of education at our state art museum. I'm passionate about increasing access to learning through the art across my home state and struggle to integrate my mission- driven career with other domains of my identity: mom, friend, wife, daught, and emerging leader of my faith community. I created a blog to share what I've learned about making time to live a more creative life and integrate these different domains.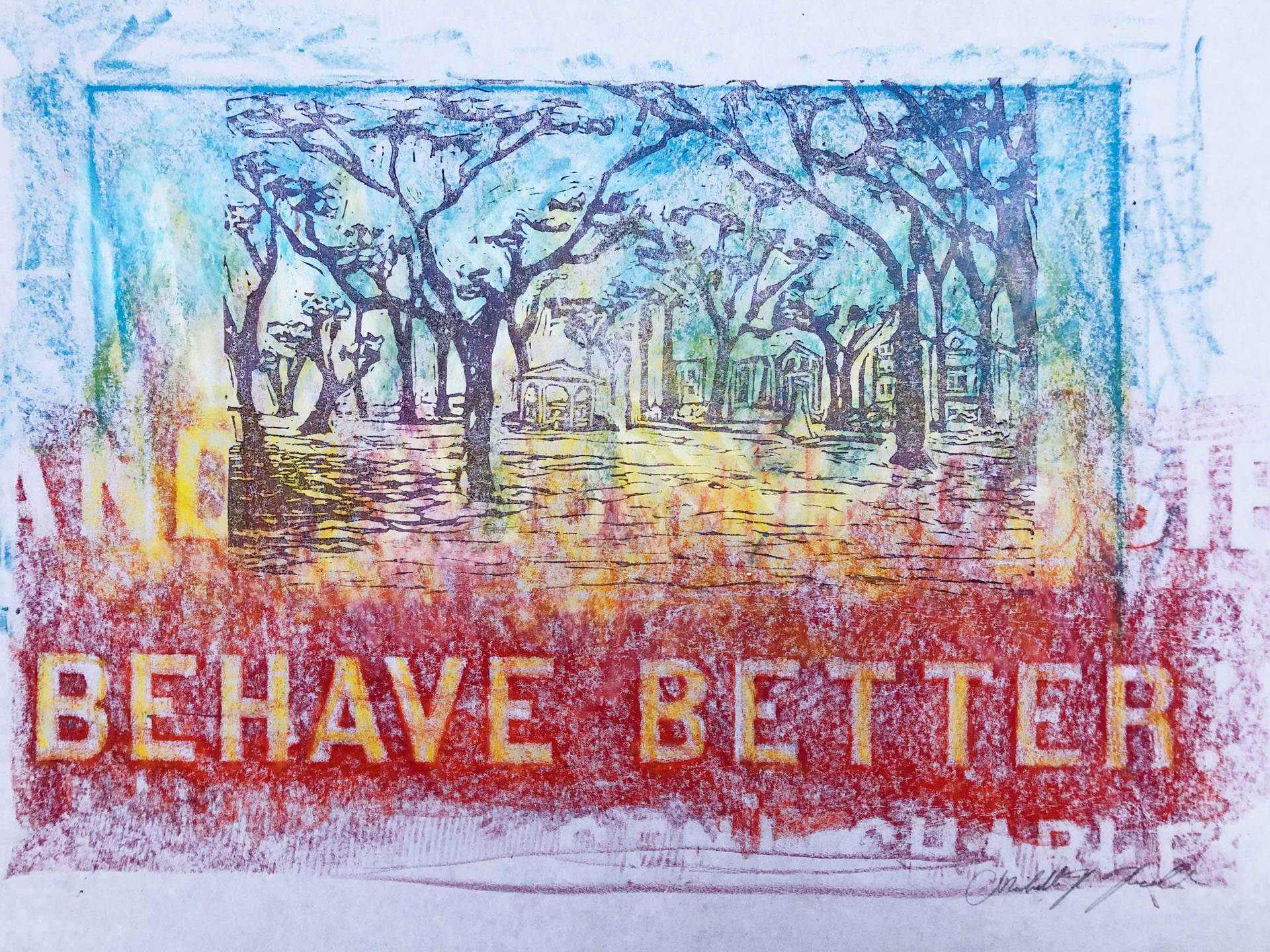 Behave Better (Confederate Monument Rubbing, Charleston, SC), Lino-cut monoprint on oil pastel rubbing, 24″ x 30″ x 1.5″, 2019