School of Art and Design Alumni Exhibition 2021
Wellington B. Gray Gallery
Back to Alumni Exhibit main page
Pitt County Arts Council at Emerge
Janice Hardison Faulkner Gallery
Priscilla Whitlock
Graduated 1974
Working from nature my inspiration is landscape. The subject matter is about physicality and energy of the paint and less about landscape as "scenery". Painted marks, dashes, swipes of oil and oil stick, shapes and color all come together to represent mood, light, and sense of place. Up close, the work is most abstract. Viewed from a distance it "comes together" to represent a field, marsh, or "view".
Inspired by the brushwork, color and jazzy compositions of Abstract Expressionists such as Joan Mitchell, as well as the most contemporary of the Impressionists paintings, I use landscape events; such as seasonal high tides, rivers rushing through the mountains, and farm fields to create a visual language that balances between abstraction and representation.
Biography
Priscilla Long Whitlock is a painter with studios in N.C. and Va. "Working from nature, she abstracts her subject matter into beautiful oil paintings that bring to mind the impressionsts of the late 19th century and Abstract Expressionists of the 20th."* She is a fellow at Virginia Center for Creative Arts, and has been awarded residencies at Cape Hatteras National Seashore, Bodie Island and Buxton, Acadia National Park, and Les Amis du Grande Vigne, Dinan, France and spring 2018 at the Truro Center for the Arts in Cape Cod. Her work was chosen for the U.S. Ambassador's residence at Riga, Latvia, through the Art in Embassies Program. She has exhibited nationally and abroad and her paintings are in private and public collections, including medical facilities in our southern and midAtlantic states. A recent show "Lady Painters" was centered on the paintings of artist Joan Mitchell, and included one of Ms. Mitchell's paintings.
Notes about ECU- Being in the School of Art in the 1970's was like living in the Wild West. Guns, motorcycles, the beginning of performance artwork, dreams of future fame, vets returning from Vietnam, anti-war demonstrations, "streaking" and then moderation provided by Wes Crawley, and Tran and Marilyn Gordley. As painters, we followed Ed Reep around like he was a superstar and admired the young faculty, Ray Elmore, Henry Stindt and Bob Rasch. I wish I had been educated enough to appreciate the lovely Francis Speight and his wife, Sarah Blakeslee, who as artists-in-residence, invited us students to their home to see their paintings.
Later in my career when I really learned to paint from observation I wished my old self could return to that time and have a conversation with the two of them. **The Pinks, Sage painting was painted in a field in Bertie County. Clary Sage is only grown in a few of the N.C. coastal counties, for perfuming laundry detergents, dish soaps, shampoos and Camel cigarettes. It is disappearing because it is now being synthetically manufactured in California.
I still love to paint and draw, color and make monotypes on my little press. Thank you East Carolina University and Dr. Gray for believing in me.
Photos below: 1. Taken by dear friend David Smith in the new art building of me painting a large "photorealist" painting with a very tiny paintbrush. 2. The undergraduate silkscreen poster with Terri Holtzclaw and Pat Ford; the three of us expressing our feminist side. At this time there were only a couple of female professors/instructors.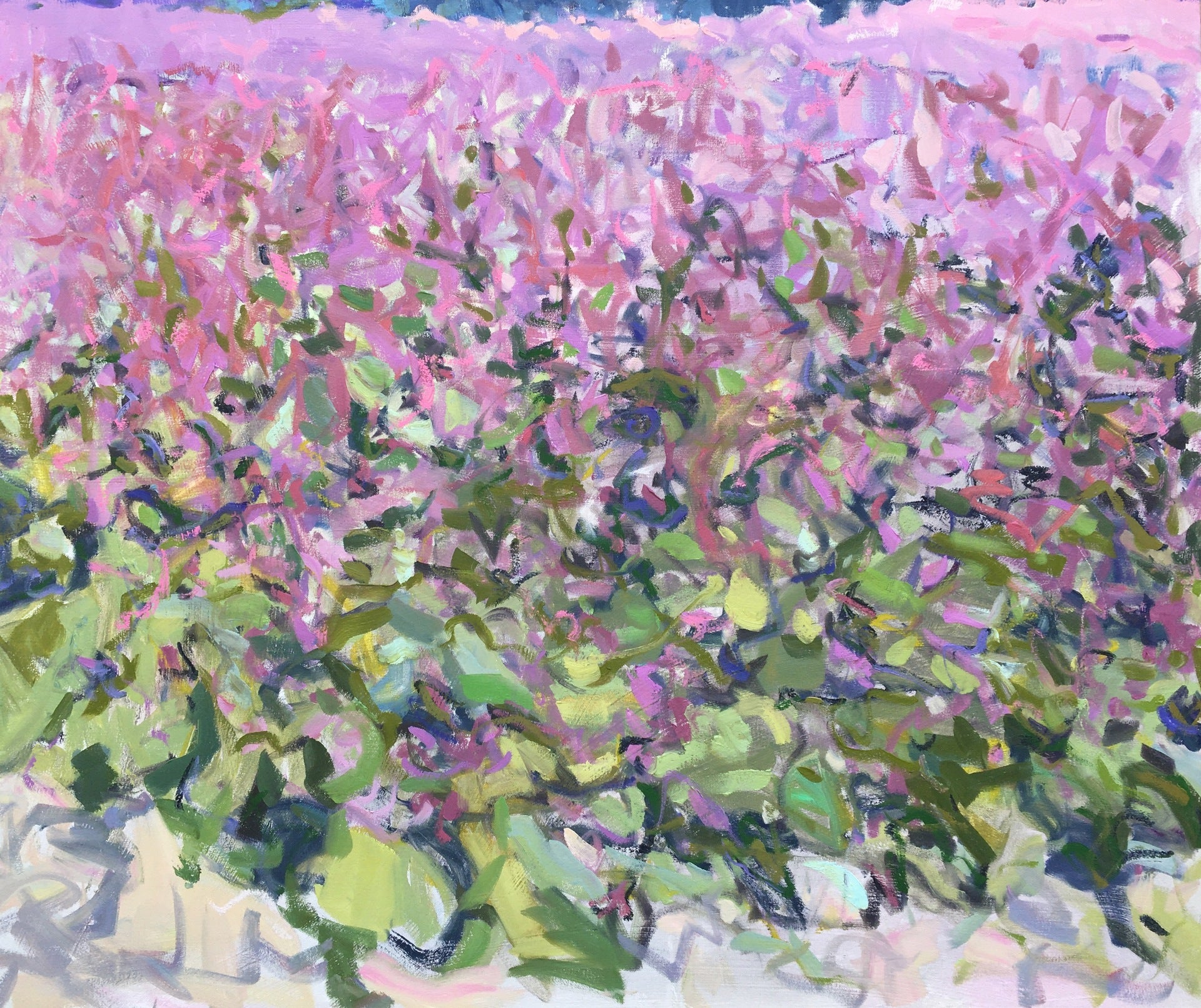 Sage, Pinks, oil, mixed media, 30″ x 36″, 2019