School of Art and Design Alumni Exhibition 2021
Wellington B. Gray Gallery
Back to Alumni Exhibit main page
Pitt County Arts Council at Emerge
Janice Hardison Faulkner Gallery
Patricia Schwarz
Graduated 1979
I was introduced to clay my freshman year in college in the course, Art Fundamentals; or as we called it, "Art FUNdies." This class offered a half semester each of painting, printmaking, ceramics, and sculpture. Like many freshmen art majors, I was sure that I wanted to be a famous painter. After that course, the only discipline I NEVER took again was painting. After experimenting with various other art forms, I settled on clay, eventually earning an MFA in ceramics. My thesis show included a number of large, functional, soda-fired pieces. For a long while, I produced salt-fired and other high temperature pottery at a home studio, prior to opening Clayworks, a production and teaching studio in midtown Memphis. In various venues, I have been privileged to share my love of clay, teaching hundreds of students how to express themselves in clay.
After a few bumps in the road (surviving breast cancer and closing Clayworks) and detours including 15 years of service as a paramedic, I have returned to the wheel, focusing on non-utilitarian, saw dust fired, smoked pieces in traditional forms such as jars, platters, and vases.
Whether pulling the lid from a burned off trash can firing or opening a kiln door, the anticipation of seeing what the heat has done to the clay is still as exciting for me as it was that first time in Art FUNdies.
I hope that you will enjoy my work as much as I enjoyed making it.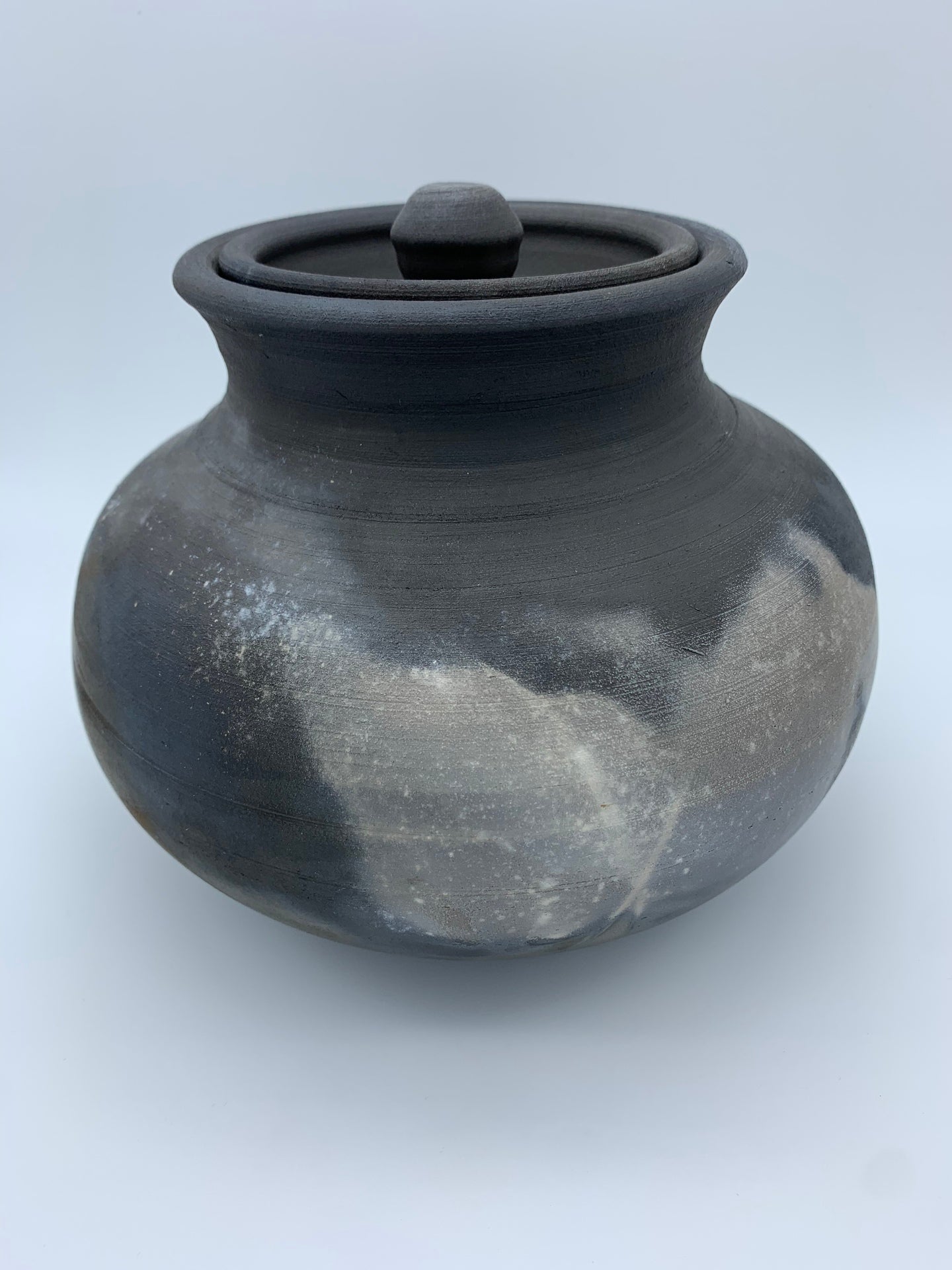 Covered Jar, Sawdust-fired white earthenware clay, 6.75″ x 8.5″ x 8.5″, 2021