School of Art and Design Alumni Exhibition 2021
Wellington B. Gray Gallery
Back to Alumni Exhibit main page
Pitt County Arts Council at Emerge
Janice Hardison Faulkner Gallery
Lauri Daughtry
Graduated 1984
Art permeates my life. I daydreamed constantly-writing, drawing, and doodling on all things I shouldn't have, and eventually decided that a B.F.A. in studio art (Interior Design/Drawing-ECU '84) was the only option in life for me.
As a kid, I had the good fortune to live right across the street from Edward Reep. I watched him energetically paint in his studio many times, and listened to his colorful stories, while being entranced with his painting technique and style. He was always patient with me and my brother as we sat and watched. One day, my dad asked him to hand-letter the back of our houseboat we renovated. With his zany sense of humor, he just cranked it out. That was such a cool experience, and Ed impacted me to pursue an art degree one day. Later (10 years later) he would also be an influential professor to me in watercolor. I remember one day he came bounding into the room and said something like "WHERE is the humanity?" He always had a way of pushing me beyond my comfort zone, to experiment with mediums to find MY voice, to be brave. Another influential professor was Ray Elmore. I ended up minoring in drawing because of him. I remember being mesmerized by an illustration mural he installed in a Raleigh area McDonald's. I don't think that folks really understood how talented Ray Elmore really was. I could not wait to be his student. In summer school of my senior year, I was introduced to mixed media/ contemporary painting, and became deeply moved by the work of Roxanne Reep, a grad student at the time. She exposed me to many contemporary painters, and one in particular, Robert Rauschenburg, became my muse. Looking back, anyone who sat under these great teachers and artists gained such invaluable experience. Mixed media collage is my current "jam" with watercolor and illustration being a close second. My first career was in Interior Design ('84-Mel Stanforth) and I was very successful with that, and then when my kids were born, I discovered a calling to teach art to others. I went back to school as an adult to gain the coursework needed to be certified.
I hold an advanced board certification (NBCT) in Art Education, and am also a professionally certified commercial Interior Designer (NCIDQ), my first design career prior to teaching art. I have lived in Alamance County since 1994 and have been teaching art privately and in public schools since 1997.
I'm now a high school art/ pottery teacher at my local high school by day, and I run Bottles & Brushes art studio as a side hustle, at night, spending many nights in the studio experimenting with texture, layers, and materials. I usually work on several projects simultaneously and gravitate between ink, batik, mixed media collage, assemblage, and acrylic on canvas. I carry a sketchbook because art always begins with a line. Themes in my work focus on earth elements, the figure, nature, the ebb and flow of tides, and expressively capturing moments suspended in time. No matter what mediums I explore, I'm drawn back to the active process of mixed media collage. It's fresh, playful, loose, and supremely satisfying to use so many mediums at once, and it quite fits my personality. My mixed media/collage work explores themes of history, life, and nature, using juxtaposition, and surprising combinations to create new narratives. My work sometimes nods to historical or whimsical themes, taking on a life of its own as I assemble it. The surfaces are composed of textured layers of transparent acrylic, watercolor, torn papers, found and vintage objects, and meaningful bits, gravitating between the translucent and opaque, and the transient to the here and now. My work playfully exudes its own visual narrative that the viewer can interpret as their own. "Reforget" ponders life existentially. I give Edward Reep, Ray Elmore, and Roxanne Reep, among many other talented ECU faculty, all the credit for instilling in me a sense of pride, curiosity, individualism, while encouraging my artistic expression. They were well ahead of their time! I feel humbled and honored to call them my professors.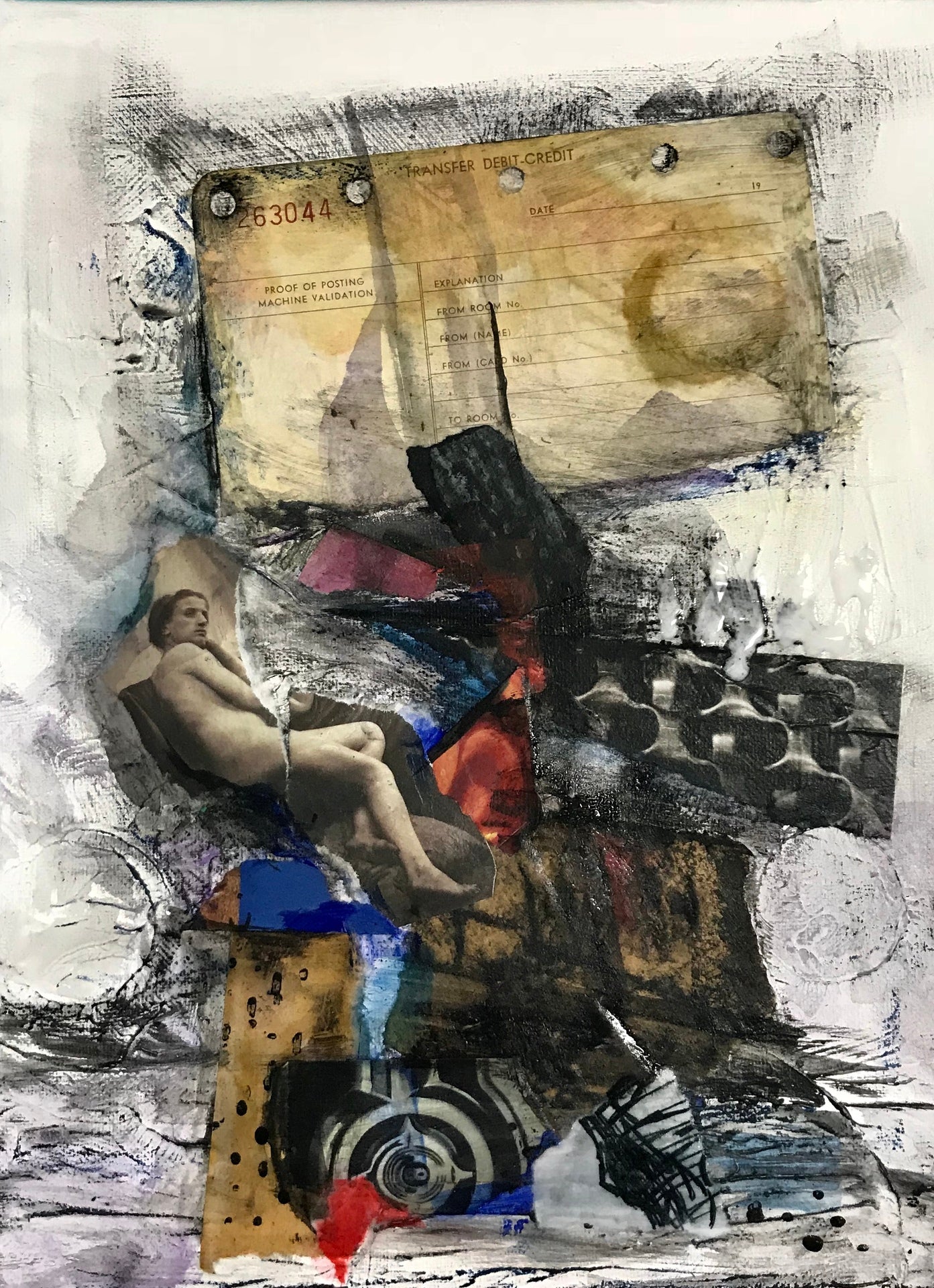 Reforget, Mixed Media Collage, 12″ x 9″, 2019