School of Art and Design Alumni Exhibition 2021
Wellington B. Gray Gallery
Back to Alumni Exhibit main page
Pitt County Arts Council at Emerge
Janice Hardison Faulkner Gallery
Caroline Rust
Graduated 1993
"I See You, You Are Reflecting Light" tryptic – 2021, oil on garments, installed tryptic 54″w X 20″t (each piece 16 "w X 20″t)
My current portfolio, LIFE IN THE GARMENTS, depicts iterations of an experimentation with garments and painting, blending my passion for both. Series use textiles metaphorically to contemplate the human condition, reveal qualities of femininity, and explore identity. Emerging is a visual dialogue, evoking human presence with the past, aimed at illuminating vulnerability as a source of strength. To elicit this, I employ a process involving the deconstruction of clothing. Comparable to an aspect of Punk Fashion Design, injury, like ripping apart garments, is followed by liberating mending acts. Control restored, clothes are patched-up and only then gifted new lives, new identities by becoming low-relief grounds for emotive paint application. Advancing the narrative, as viewers peer into the crevices of well-worn personal attire, I expose myself and my vulnerability. The marriage of these concepts exemplifies the duality of a contemporary form of beauty through work that is both personal and universal. Its authenticity – something wounded, reinvented – perhaps enables a broader awareness of the feminine experience.
"I See You, You Are Reflecting Light" tryptic is one series in my portfolio of gestural works that join garment remnants from my wardrobe and vintage collection with paint. The work highlights blouses, motivating to me for their femininity and subtlety of color and fabric weight. Seen in an alternative perspective, perhaps the blouses resemble mirrors with faces peering out. What if our faces were mirrors? Edith Wharton's quote "there are two ways of spreading light: to be the candle or the mirror that reflects it" provides further inspiration. Lastly, this tryptic pays homage to a young woman from history named Czes awa Kwoka. Looking into her striking eyes in a vintage photograph triggered immense empathy and an unwavering desire to gift her something of beauty.
When discussing my works of art and the processes used to create them, one will hear me reference the exemplary education I received during my undergraduate education at ECU (1989-93). The curriculum, which combined 2-dimensional design and 3-dimensional design no matter one's area of concentration, prepared me well for using numerous materials and mediums. To the point that I began to experience the execution of each medium as a building process. Blending mechanical with intuitive has become a normal way of working. While at ECU, my work included themes of literal doors and windows, in metal, clay, wood, fibers, even though my concentration was painting. Today, in current works, these openings have become abstracted, conceptual openings to view what is on the inside, metaphorically, of ourselves. Cuts, tears, rips, mirrors, layers beneath layers, reveal attributes of the human condition.
BIO BORN Charlotte, NC
Described as a painter's painter, Caroline Rust creates intriguing surface assemblages with textiles enriched through the use of expressionistic color. In a synthesis of emotion and intellect, her works of art use garments as a foundation. Rust earned a BFA in Painting from East Carolina University in 1993 and an MFA in Painting from Winthrop University in 1997. Her award-winning works of art are procured by private and corporate collectors and featured in juried group and one-person exhibitions annually. Recently the painting "Billie Holliday's Veil" was published in a Belgian educational book, Curieus 6, 2020. This same work received 'Best of Show' during the 2016 exhibit IN-VISIABLE in Pittsburgh, PA. In 2018 Rust co-curated and displayed work in a 3-woman exhibit a entitled REFLECTING HER STORY. She received a grant for the project from the SC Arts Commission. It was on view at Radford University Art Museum – Radford, VA and again in 2019 at The Center for the Arts – Rock Hill, SC. Rust's work was selected for use in 2017, and again for 2021, through Charlotte's public art program, ArtPop Street Gallery. It was while Rust was an artist-in-residence at McColl Center for Art+Innovation in 2015 that she began using garments as low-relief grounds for paintings.
Selected exhibit locations: Gallery 110 -Seattle, WA, Grand Central Library -New York, NY, Point Park University -Pittsburgh, PA, "The SC State Biennial" -Columbia, SC, UNC-Charlotte -Charlotte, NC, Goggle Works Art Center -Reading, PA, Spirit Square Gallery -Charlotte, NC, Central Piedmont Community College -Charlotte, NC, and Artemisia Gallery -Chicago, IL. Rust has been a professor of art and design. She has professional experiences in arts administration, marketing, planning, and development in academia and commerce. Committed to art and community, Rust has served the board of the Women's Art Initiative in Rock Hill, SC since 2017 and been a member of the National Association of Women Artists of New York, NY since 2010.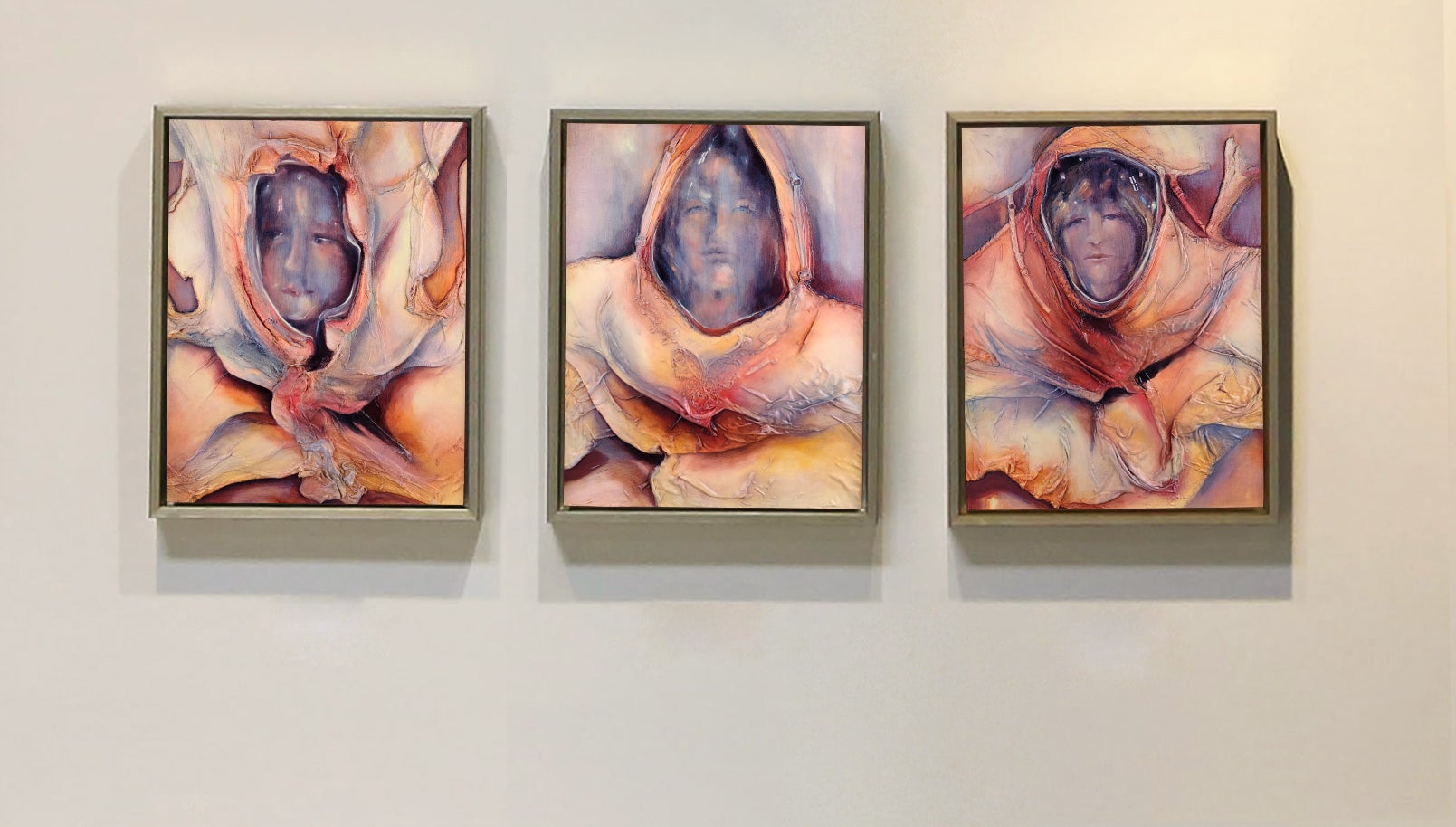 I See You, You Are Reflecting Light, oil on garments on board, 20″ x 54″ x 2″, 2021
Windows & Doors/ Selected works by Caroline Rust made at ECU
This is a short video-ette, a compilation of selected works of art I made while in undergraduate school at ECU 1989-1993. It is referenced in my artist statement and is part of the "sharing" of my time at ECU. Thank you.