School of Art and Design Alumni Exhibition 2021
Wellington B. Gray Gallery
Back to Alumni Exhibit main page
Pitt County Arts Council at Emerge
Janice Hardison Faulkner Gallery
Bob Rankin
Graduated 1970
He graduated from the E.C.U school of Art and has studied
extensively throughout Europe. His adventurous travels have
taken him to over 40 countries. These experiences have greatly influenced his artwork.

Bob's passion for teaching led him to a 30 year career in Wake county public schools. He was Sanderson High Schools teacher of the year, as well as, North Carolina Art Education Association's Secondary Art Educator of the year. Bob has exhibited nationally and internationally and is in over 30 corporate collections.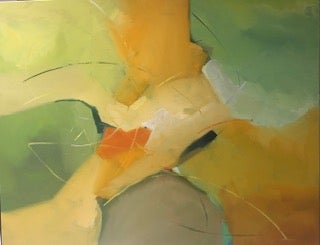 Yellow Mellow, Acrylic on canvas, 48 X 60, 2021